Overall I was generally impressed with the USAmusements arcade game auction that took place in Indianapolis last Saturday. There was about the same amount of classic arcade games, but in terms of volume I would say that there were about 20% more games than usual, and quite a few more pinballs. I got photos of just about everything, and prices for a handful of items.
Arcade game values continue to sink
Even though the turnout for this auction in Indianapolis was greater than for the Super Auction in Chicago last weekend, the prices weren't all that much higher. A lot of games hovered right around the $100 mark, including Space Invaders regular and Deluxe, Joust and Frogger. Granted, some of them may have been complete and not working but still. There was a Multicade cocktail that brought only $375 when if memory serves me would have normally taken around the $500 mark.
I do believe we did see our first 60 in 1 conversion, and it was pricey at $950. But overall, game prices were down. There was a non working Zaxxon but complete that went for $20 and a 1942 that went for $40. I should have grabbed the 1942 and I missed seeing who bought the Zaxxon so I couldn't recommend to them to buy the recent Zaxxon control panel overlay reproductions. There were 3 Super Chexx hockey and one regular Chexx hockey game at this auction. Supposedly there haven't been many if any of those at the Indianapolis auction in 10 plus years. I don't understand why those games bring so much coin, but they seem to have staying popularity.
As usual, I was on the lookout for a Pengo PCB in the junk pile, as well as a nice looking Taito cabinet populated or not for a friend. Hadn't ever seen a Taito at an Indianapolis auction so I wasn't holding my breath.
Chicago Coin-Operated Migration
There were a good amount of pinball machines that made their way down from Chicago including the Batman pinball I had been eyeing but knew was more than I could take on right now. I think a good portion of the machines that made the trip were with Troy Smith. I didn't know he was going to be there until after the fact, wish I could have known what he looked like so I could have introduced myself.
Hooked up with a couple of old friends, and met a new one. Because of my Rotheblog shirt Doug Clark came up and introduced himself (Pinball Tek) so I was really happy about that.
If you got any of the arcade game prices, please, leave a comment and fill me in so I can help fill the list out. Oh, and somehow I missed a photo of a couple of pinball machines including the Terminator 3 – $1475, Playboy – Not working $400, and Mario Andretti $625. If you got a photo of these send it to me, please.
Click on the photo below to enter the photo gallery with names and prices of what I got / remembered. Pinballs sold for about 20% higher in Indianapolis than in Chicago which is a little bit surprising, but maybe not. I think we may be a little more pinball starved down here 😉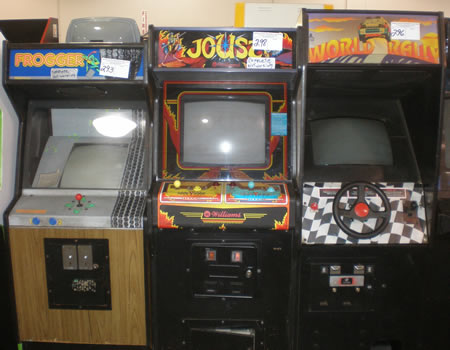 For those of you out there that are thinking about buying an arcade game for your basement, or starting a gameroom but don't know much about how the Indianapolis auctions work, check out my post "Preparing for a USAmusements arcade game auction in Indianapolis". I included some photos inside the Fairgrounds so you know where exactly where to go.
Here are some similar arcade posts
If you enjoyed this post, please consider to leave a comment or subscribe to the feed and get future articles delivered to your feed reader.