Rockford, MI – A Rockford Michigan man today confused his classic Xenophobe arcade game for a solid gold brick.
"I tried to take my old Atari Xenophobe down to my safety deposit box but they wouldn't let me put it in. I told them, what do I need a box for if I can't store my gold in it? They told me that my game wasn't gold, that in fact it was only worth a hundred bucks or so and that I should turn it into media unit to store my Chicago "Love Songs" CD's."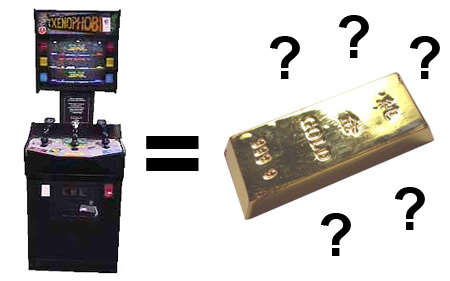 Imma gonna auction my arcade game on Craigslist
"That's what I told them", the shifty man continued.
"You mean auction your game on eBay?" the bank teller asked.
"No, I'm going to take a silent auction on my gold brick on that Craigslist auction website".
"Sir, I definitely think you are thinking of eBay" the teller continued.
"Quack! —Quack! Quack!"
"Sir, please don't *quack* at me", as the man began to bite the side of the arcade cabinet and mumble something about quickest way to get gold fillings.
Subsequently the bank teller called the police where the man and his arcade machine were taken into custody.
Here is the posted article talking more about the man who confused Craigslist for eBay and then tried to sell a pile of wood for thousands of dollars, golden dollars! Quack Quack.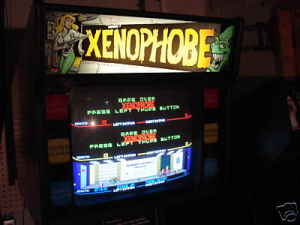 THIS IS AN SEALED BID EMAIL AUCTION. EMAIL YOUR BEST OFFER FOR THE NEXT TWO WEEKS AND THE HIGHEST BID WILL WIN.

Looking to sell my full sized Xenophobe game. This is a unique game because of the monitor setup on top of a neck which I haven't seen in another game, the three player scrolling screen, colorful graphics and challenging gameplay. The body is also in good yet not perfect condition. All three joysticks and buttons work great. The marquee is in good working order, front glass in great shape, control panel is a little faded but not terrible. There are a couple of small tears in the control panel overlay near the center but nothing that big. Will show by appointment. I have a minimum reserve price below which the game will not sell. Other than that, email your highest bid!
In a related story, a new study shows that 1 out of 5 men who have particle board poisoning know less than five adjectives. Common adjectives in this deficiency are good, great, good good, great oh and did I say good?
April 2nd, 2009
Funny day. Out of the blue this other day the original poster / owner of this Xenophobe dropped me a line. He said he enjoyed my post. Turns out he wasn't just a one off guy, but a big pinball collector in my home town of Grand Rapids.
He told me that he picked up the Xenophobe at auction for $50 and got it up and running for another $10. The ad only lasted a day on Craigslist it ended up on eBay and sold for $350.
This idea of a 'Craigslist' auction is so outlandish and deceitful that it doesn't surprise me that the game made it to eBay. That is what eBay is for, auctions. But it doesn't matter, unless that game is a Star Wars cockpit or something tremendously valuable your everyday collector is going to steer far away from an ad like that, if not flag it. eBay's the ultimate equalizer.
Here are some similar arcade posts
If you enjoyed this post, please consider to leave a comment or subscribe to the feed and get future articles delivered to your feed reader.