Earlier in 2008 when I was really pushing to see what sort of traffic I could get on this arcade blog, I was starting to gather the best arcade artwork resources here under one roof.
I had contacted Tom Van Horn to see if he would let me reproduce (with credit of course) his very nice tutorial PDF on how to use a vector program to trace and then reproduce your arcade game artwork. I thought that this resource could be more easily found if made into HTML pages will a greater density of keywords and keep the PDF as a compliment to download and easily read offline, print, whatever was needed. A pretty good idea I thought.
He outright refused. He said the format was best how it was. Ok, to each their own. I thought I would write my own tutorial in a similar vein but time is so hard to come by in large chunks and I have just never put together my own beginner's tips on vectorizing artwork.
So as of right now, this is still the best resource on vectorizing artwork that exists, so if you have no idea on how this stuff works here is a beginner's walk through.
Start making your own vector artwork
Tom's tutorial on vectorizing your own artwork is available from a couple of different websites, you can find the 'How-to vectorize artwork' on BYOAC and on Tom's (Frostillicus) artwork page. Both of these sites have done a pretty terrible job using keywords in their resources for people searching for tutorials and how-to(s) for making vector arcade artwork.
The tutorial is a PDF and comes with an example Illustrator file and is very thorough (read long). Don't be too worried about this material being too over your head, or too technical because he uses a great balance of text with his images, here are a couple of screen shots from that tutorial on making vector arcade artwork;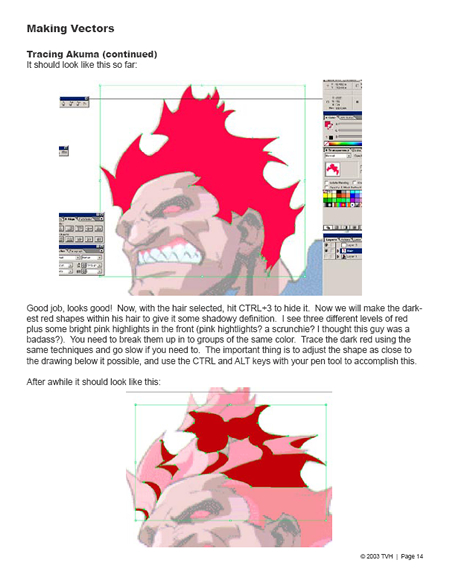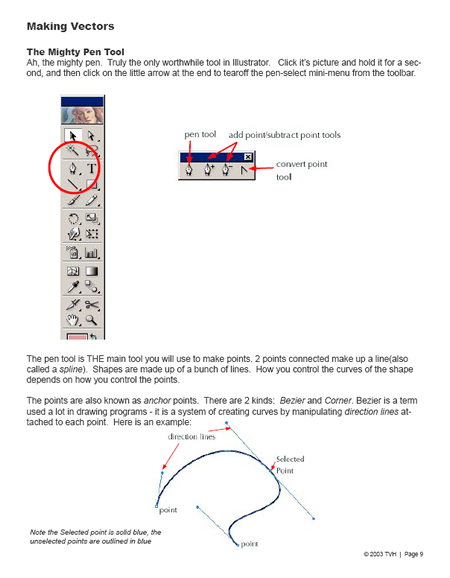 Now, this tutorial is great for learning how to use some of the vector line and shapes tools in Adobe Illustrator, as well as working with the free form drawing tool in the pen. What this tutorial focuses on is making really cool looking vector arcade artwork, but only touches a little bit on which file formats to export and what type of paper to print on.
This PDF really won't be useful on how to prepare your artwork to be made into screened reproductions. I have written a number of articles already on Rotheblog.com on how to do some of the screen printing preparations so you might be able to string all of the information together to draw and prep a piece of arcade artwork for printing. Visit the arcade tutorials section which is scattered with articles on how to check the size of your artwork, how to measure for placement of buttons / joysticks / etc, how to scan artwork and much more. This information combined with the tutorial should get your up and running with some good vector arcade artwork for whatever use you may need.
Here is a link if you are interested to download a zip file of the 'Vectorizing arcade game artwork' tutorial.
Questions?
I know the material in the PDF, not by heart but in practice. If you read through the tutorial on using Illustrator to vectorize your artwork and you have any questions you can leave a comment here and I can answer it for you and for everyone else who might be curious. Let's keep reproducing that classic artwork people!
Here are some similar arcade posts
If you enjoyed this post, please consider to leave a comment or subscribe to the feed and get future articles delivered to your feed reader.