On Friday night I made a quick mention of some of the final prices at the Pinball Expo 2008 Super Auction. I finalized the photos with prices and have them loaded up in a gallery. Don't be too surprised when you don't see very many classic games though. 😉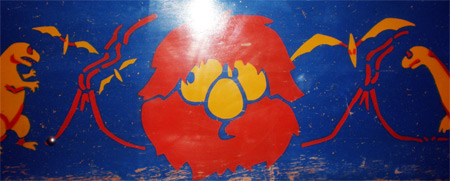 "Oh, Oh! And boom goes the dynamite" says the Caveman.
Makin' a killing at Super Auctions
Games were going for way below value. My guess would be the circumstances had something to do with that. The economy is bad, there was a limited audience at the Pinball Expo and those were pinball guys. But even the pinball guys didn't bid up the pins that were there either.
A few highlights in my opinion;
Nice looking Road Blasters – $40
After Burner – $50
Marvel Super Heroes Street Fighter – $75
Click on the photo of the Mr. Do! cabaret conversion to enter the photo gallery with all of the arcade game prices.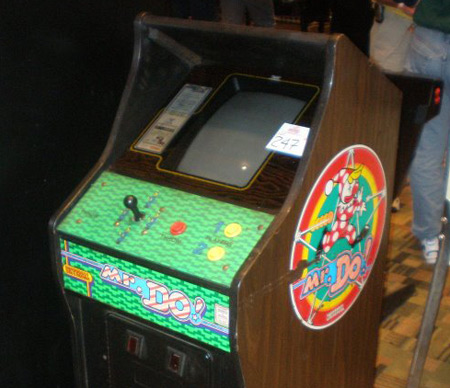 I know Troy Smith (MtZRcade on the Klov forums) picked up a ton of games, as if he needed more (Probably a good chunk of the 70 mentioned below). Currently he quoted himself as having somewhere in the neighborhood of 500+ games in a warehouse! Keeps the business going I guess.
But for me, I have over 500 games right now. And there are members on here that can verify that I have that much. Hell, i bought over 70 games alone this week.
Pinball auction prices
I didn't stick around for the pinball prices, the arcade game auctioning had already taken place when I was there. But thanks to the pinball collectors at the RGP newsgroup, they already posted a list of final prices on the pins.
Scared Stiff – $2300 (looked in good shape)
NBA Fast Break – $1100 (DMD problems, minor playfield damage) Buy Back
Road Show – $1050 Buy Back
Attack From Mars – $1700 Buy Back
Harley Davidson – $1725
South Park – $1425
Cirqus Voltaire – $2850
Nascar – $1800 Buy Back
X-Files – $900 Buy Back
Monopoly – $1760 Buy Back
Sharky's Shootout – $900
X-Files – $735 Buy Back
Bram Stoker's Dracula – $1025
Globetrotters – $700 (playfield is trashed, nice Back Glass) Buy Back
Paragon – $550 (Damaged Back Glass) Buy Back
Countdown – $400
Viking – $350 Buy Back
Four Billion BC – $600
Space Time – $225 Buy Back
Jungle King – $325 Buy Back
???? (Ultra Pin – some kind of pin simulator) – $2200
Pinball Champ – $200 (Beautiful playfield and cab, little Back Glass flaking
problem)
Super Circus – ???
Bad Cats – $700
WirlWind – ???
Diner – ???
World Cup Soccer – ???
Simpsons – $750
South Park – $1250
Batman – $900
Monopoly – $1725
Corvette – ???
Bram Stoker's Dracula – $825
If anyone got final auction prices for some of the pinball games from the Chicago Expo, let me know.
Here are some similar arcade posts
If you enjoyed this post, please consider to leave a comment or subscribe to the feed and get future articles delivered to your feed reader.