I have had some suggestions, some I take as fact based on the source and some I have just considered, all of them have been good. But tonight I feel like I have had success with a careful use of mineral spirits, a rag, and a detail paint brush to fix some of my ugly edges on the black Ms. Pac-man artwork.
Before & After – Ms. Pac-man lettering
I got a suggestion from a collector that is, to say the least, a little bit passionate. This collector took one of the worst looking Ms. Pac-man cabinets I have ever seen and by hand, repainted all of the artwork.
He made a suggestion – take a q-tip dipped in mineral spirits and try to scrub off the black overspray, then use a brush to touchup the yellow and the black.
The q-tip didn't work for me, the texture on the yellow trashed it. However, using a folder over flat edge of a rag worked wonders. I was able to scrub the fine black dots off leaving the solid black broken edge. Then, carefully, with a dabbed out detail paint brush tip I was able to fix some of the edges. I don't anticipate painting any black, the yellow seems to be working with a little feathering at the end. I don't see any brush strokes, and I think that may be one part the feathering, and one part the fact that the yellow is textured you can't see brush strokes.
Before these photos I had already wiped out an overspray spot on the top right of the letter N. These two photos show a before and after of what I have been able to fix.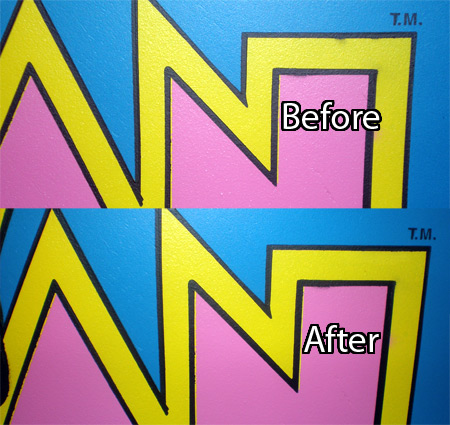 I have noticed that if I don't use feathering in my scrubbing, that I can turn the yellow slightly dingy, and it definitely makes the finish a little more dull. But I am guessing that this won't matter from a distance and that this will not show when the clear coat is added.
I am happy this is working. I had stopped at Hobby Lobby tonight after the gym and picked up a pad of acetone sheets. At Hobby Lobby, their cheapest airbrush gun was $100.00, some sort of universal brand gun by the name of VL. I had to pass on that of course, and started to get worried about my options. Somewhere I had seen a price online of $20 for a cheap gun, I had planned on stopped by Harbor Freight tomorrow.
But if this continues to pan out, I might be able to save all of that.
Here are some similar arcade posts
If you enjoyed this post, please consider to leave a comment or subscribe to the feed and get future articles delivered to your feed reader.