That is the question. I supposedly have two more days of warm weather to make a decision and act. Do I buy yet more items for this job and push my costs for tools and materials close to $200? or do I leave the artwork as is and apply the clear coat?
I am taking a stay, procrastinating if you will. I'll try a small touchup area first to see how the Valspar mixture matches the yellow first.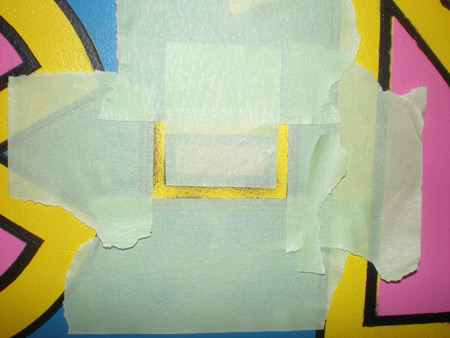 Detail photos of the overspray
I dread showing these, I tried my hardest, and I learned a lot and this is what I have. 12-15 spots like these, sometimes in areas where I don't care, and sometimes in predominantly yellow areas on Ms. Pac-man that are hard to ignore.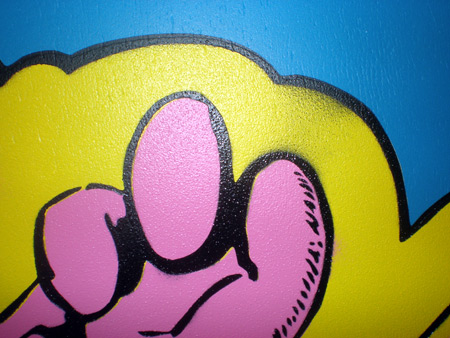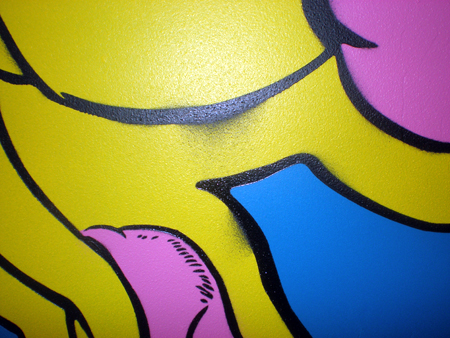 So, do I go out and buy an airbrush and some sort of plastic material to cut mini template to do touchup? Can I use this same air compressor on an airbrush? Or do I need something else to push the paint? Also, I could either buy sheets of acetate or I guess cut up plastic folders would work too, whatever is cheaper and perform some spot touchup. Or I could leave it and finally be on the road to re-assembly.
I don't understand why I couldn't use cardboard instead of plastic, why it has to be plastic to cut the touchup shapes. If the airbrush spray is fine enough wouldn't cardboard suffice? That would save that cost at least.
I anticipate that most of you would say touch it up. But leave a comment, let me know. And an answer that the Ms. Pac-man sideart would be hidden isn't a consideration for me, so don't say that.
Here are some similar arcade posts
If you enjoyed this post, please consider to leave a comment or subscribe to the feed and get future articles delivered to your feed reader.