A member of the arcade collecting community turned up a real gem this weekend at an old operator's warehouse, a complete NOS (New Old Stock) conversion kit. I have ties to this game now since I have vectorized most of the Glob artwork and someday will finish designing custom kickplate artwork for the game as well. If you haven't ever played Glob before, it is a really fun game. The artwork is ok, here's a photo of the pieces of the NOS kit.
I've never seen a Glob overlay
I had a hard enough time drumming up a high resolution image of both the bezel and the marquee, I didn't even know that a control panel overlay for a Glob conversion existed.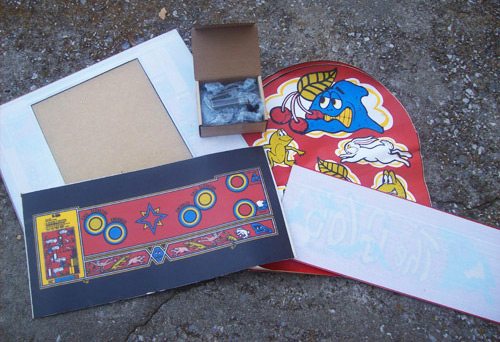 I worked with Preston on the Gunsmoke control panel artwork reproductions, hopefully I can get some scans of the artwork from him. I would love to have all the pieces to help me accurately get ideas to design the kickplate artwork.
I would guess that this kit is worth at least $200 to the right individual, and I know at least 2 other interested people, not including the interest that has been indicated on the forums already. But Preston has said he'll hang onto it, and he should. A complete NOS Glob conversion kit doesn't come up very often, with two pieces of sideart, a bezel, a marquee, a control panel overlay and other pieces this is a unique find that I wouldn't be able to put a price on myself. If this Glob kit was mine, I would never sell it the money just isn't worth it.
Here are some similar arcade posts
If you enjoyed this post, please consider to leave a comment or subscribe to the feed and get future articles delivered to your feed reader.