An open letter,
I have been dissatisfied with the fragmentation of the arcade game collecting community for quite some time. I think many people have echoed these sentiments. So many sites that aren't tied together, so much time spent bouncing between each.
For a couple of months now I have been contemplating trying to do something about it. But…what can I do? I am not a programmer, I can only do minor things in PHP.
So, there is something out there, out of the box that I want to test. Test only, and I am looking for some help. I don't know much about it and whether it will bring value to the collecting community if we can get people to switch. I want to find out if that is possible.
But, it does incorporate all of these things. A forum, nested groups, individual pages, photos, videos, events, CSS editing for visual control and more which I am hoping to find out. And….drum roll, it has easy RSS for the forums.
I am looking for a small cohort of people, maybe 10, that thing they want to help me test this thing and see if it would be valuable. I want people to try to do things they would normally do, and ask questions, so we can learn about it together.
The coolest thing about this is – if this solution does work, you guys can be in at the ground floor and have input into how things should work – and how the design should look which I will be doing.
Commitment
10 minutes a day. If you think you can spend that for 5 days a week, or an hour per week, that is all I ask. Just a little bit so we don't take too much time, but we can still test this out thoroughly to see what the limitations may be for our community.
I don't want to make this public knowledge yet, just in case this isn't a solution, I don't want to confuse arcade collectors about 'just one more website to frequent'.
If you are interested in being a sort of 'beta tester', let me know. Drop me a line – rothecreations@gmail.com.
~Jeff
Update Nov. 5, 2008
I had a handful of people respond and help me evaluate my social community.
The functionality is all there, so much value could be added. But in the end, the resounding response was "It doesn't incorporate game databases, collection listings and artwork storage, so let's not introduce yet one more 'forum' into the collecting arena".
I agree. Ideally, the social community should be everything.
But, implementing and maintaining that is another thing. With that realization, I was ready to give up.
However, one idea change my mind. 6 months ago no one wanted to be on a Facebook group for collecting games. No one joined mine, and that was the end of it. Or was it? Today there are two groups with 100+ members!
I would be kicking myself if I didn't at least put this idea out there and let the arcade collectors decide. Give them the option, spell out the benefits and limitations (transparency) and let them choose if they want or not. If they don't, it will go no where, end of story.
But if someone else came along 6 months later and proposed the same idea and it was a success, I would be really angry at myself.
So without further ago, I give you Ning.
Ning is the social community I was speaking of, and is so modern and powerful that it integrates so many things collectors are interested in with a user interface that is easy to use and amazing.
If you are interested in checking out the community, to see if it is worthwhile, check it out at;
http://classicarcades.ning.com/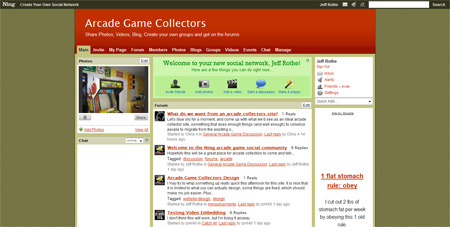 And you can check out the Classic Arcades Ning Social Community post at the klov forums now.
Here are some similar arcade posts
If you enjoyed this post, please consider to leave a comment or subscribe to the feed and get future articles delivered to your feed reader.