One a day, and here is my spotlit feature tonight in my Ning based arcade game forum – YouTube and other arcade related videos can be collected in one easy repository. Granted, YouTube is pretty easy to use, but there are a ton of videos and there isn't an arcade game section as far as I know. (Tags don't count).
At the Arcade Game Collecting Community you can paste the embed code from YouTube or upload original videos to the site and those videos are then easy to find later with the search tool.
No more trying to find that arcade video you saw that 'one time'
With a section all to itself, on the Ning arcade game forum there is a page just for videos with an image showing the video, the length as well as the tags associated.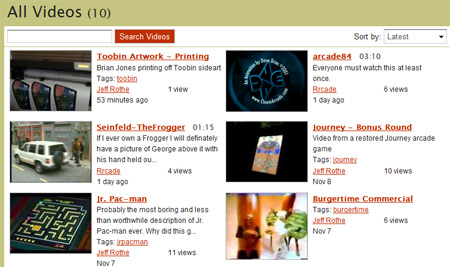 The video storage functionality here isn't going to wow you. It is a very simple version of many video sharing sites already online. However, the difference is that while you are using the arcade forum if you think of a video you'd like to link to or share, you can reliably use the general search feature. The search results will specify where it found the content you were searching for, in the videos section, photos section or even the forum – like it did here in my results in searching for that Seinfeld 'Frogger' video. This will be beneficial if and when the video section gets to be really extensive.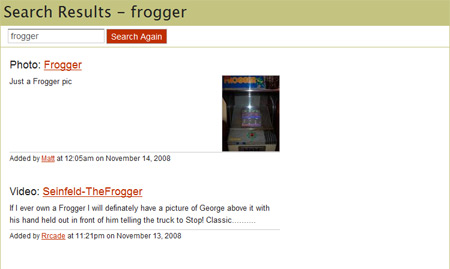 No more hunting through pages of videos at YouTube to find that one particular video to link to in your post. Plus, if you were the one who uploaded the arcade related video you can also narrow your search through your profile page.
Have an original digital video you want to upload?
You can do that too! Just like YouTube the Ning forum will convert your video to the most ubiquitous format for sharing on the forum.
However, I will say that the space is relatively limited, you could only store about 500 videos for free, so you're probably best to just upload it and store it online at YouTube and then paste in the Embed code. You'll probably get more views and comments that way from the general searcher.
Here are some similar arcade posts
If you enjoyed this post, please consider to leave a comment or subscribe to the feed and get future articles delivered to your feed reader.