About two weeks ago I got an email through my website asking if I could customize my free arcade game WordPress theme – Atari Command. The individual was looking for me to use graphics from the classic game Super Bug in the header, just doing a simple swap with anything that was Missile Command related.
Short, easy, and well defined I just cranked this design project out really quick last week in a break from class work.
Super Bug was an interesting choice
But Super Bug is a kind of fun choice, and it was a fun project, not to mention cool that I got to work with a client overseas (Spain). The smoke in the artwork lent itself realy well as the main design element that could also act as an abstract background. Click the image to go to the website where the client installed the theme.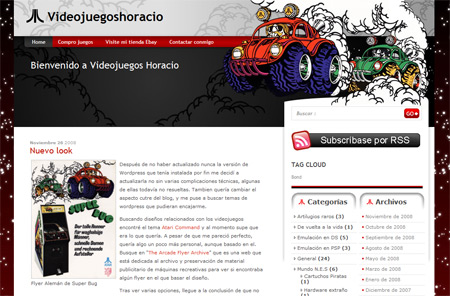 I haven't done a ton of custom WordPress themes, you can check out the short list on my Arcade WordPress Themes page. But with hundreds of thousands of users of WordPress there is a great market for WordPress specific development. If you are interested in having me make you your own custom gaming theme, drop me a line via my contact page.
Here are some similar arcade posts
If you enjoyed this post, please consider to leave a comment or subscribe to the feed and get future articles delivered to your feed reader.