Joe Magiera is probably the most resourceful arcade collector you'll meet. He's also one of the most private collectors you'll meet and rightfully so. Project manager by day, he is comfortable with two skills that lend themselves well to hunting down treasures, email and influence. He works hard to find the rare treasures he acquires, and keeps everything very close to the chest. Until today.
Joe recently wrote a very long story with a ton of detail on a trip he took out to South Dakota from Chicago. What for? Oh, only a couple of Cosmic Chasms and a Cube Quest….with a seat.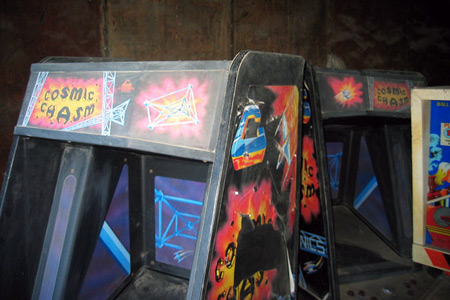 Joe takes it one step further
I think any collector would just be happy to find one Cosmic Chasm. Or maybe ever more rare, one Cube Quest, with only one other noted instance of this game. But Joe manages to find 2 Cosmic Chasms and a Cube Quest with a seat. That is like 3 times the scarcey goodness. Plus the 2 Qube Quest laser discs with a Thayer's Quest disc as well, all out in the middle of South Dakota.
The story is long, and not without the plot twists, and Joe makes a nice summary at the end to really drive the point home that, even though persistence and good research pays off, luck still needs to be on your side.
Follow the South Dakota Cube Quest and Cosmic Chasm storage unit find link or click on the photo from the warehouse above. Thanks for sharing Joe.
Here are some similar arcade posts
If you enjoyed this post, please consider to leave a comment or subscribe to the feed and get future articles delivered to your feed reader.