Finally, after a couple of weeks after moving her into the basement on Nov. 8th, I took a break today from design and online work to put my Ms. Pac-man back together. A thank you goes out to Chris Moore for the new t-molding.
Glad I took Ms. Pac-man harness photos
Seeing as this is the first time I've taken the guts out of a cabinet, I was pretty nervous about the game still working when I got it back together. I figured I could get all the wiring and pieces in the right spots, but I know a lot of collectors, myself included have experienced the 'Oh, I moved the game, now it doesn't work' phenomenon.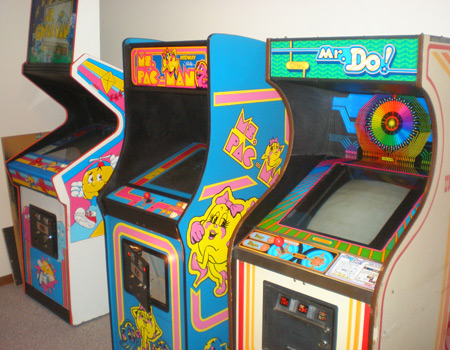 Obviously I like my games so I am pretty proud to see this photo. Gotta love putting together one machine with the best parts from two. My bezel doesn't have any flaking, the overlay doesn't have any missing chunks and the marquee is original and not faded.
I believe this officially makes me the first to 'finish' my Ms. Pac-man re-stenciling from the Joymonkey stencil files. I know my last post had to do with a smaller item, the Midway copyright and how well it came out, but I do plan on finishing the rest of the parts of the full tutorial. The introductory stencil prologue is done, which covers the costs and time you'll need, part 4 of the tutorial will get into putting down that first color, the yellow artwork.
Oh, and if you didn't see in the comments of another post, Paul Murphy left a little present in the artwork…for those of you who haven't noticed yet. It's fairly hard to find, Brian Jones had to point it out to me. I'll touch on that too when I get to the black artwork.
Here are some similar arcade posts
If you enjoyed this post, please consider to leave a comment or subscribe to the feed and get future articles delivered to your feed reader.