Mike and Dave are currently working their butts off to hold to their deadline for shipping this multi board on Nov. 24! I am blown away by this resolve, especially in a time where project time creep seems to be the status quo.
The most important item of note – It is now official, there is an 8th game on the multi Q*Bert board taking advantage of some of that extra memory that was needed for Q-bert 7-Eleven. I know all of you will know what game this is by the screenshot, but follow the jump to learn a little more.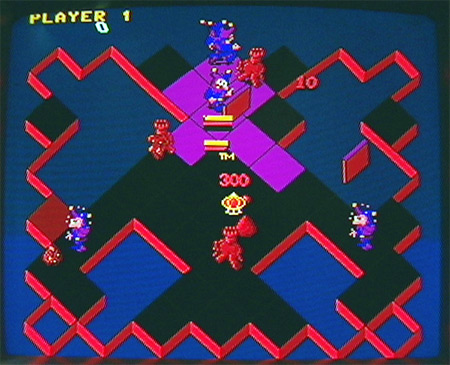 Source: Ionpool.net
Mylstar's Tylz makes the cut
I had never heard of Tylz, but what a fun game and a perfect fit for the Q*Bert multi game board. If you have never heard, or played Tylz in Mame but enjoy Q*Bert, you'll want to check it out. I don't see a listing on Klov.com, but the premise has one similarity to Q*Bert. You have a jester looking dude who runs diagonally across a board lighting up all the squares.
There is some strategy involved in level 2 and beyond in using the blinking squares that disappear from the board to separate you from your enemies, I just didn't get into it in my quick evaluation. Apparently there is an option for your character to fire at your enemies. Either way it appears like a well thought out game with a couple different levels of gameplay and strategy.
For this kit Dave Widel changed a couple of things in the programming. The first change was to reorient the text in a vertical format such that it didn't affect gameplay. He also remapped the firing action to the "player 1 start" button so there is no modification to the original Q*bert control panel. The lost sounds of Tylz have been replaced with those from Q*bert and there is some entertaining speech, for example if you stop in the middle of a game, the main character stands there blubbering jibberish (He's a Court Jester after all).
If you are looking for more information / backstory on the origin of Tylz, the prototype game from Mylstar (Old Gottlieb), check out these links;
Updates on progress for 8 in 1 board development
7-Eleven Q*Bert added as the 7th game.
Tylz added as the 8th game.
7-Eleven menu graphic added.
Tylz menu graphic added.
Additional menu speech and "easter eggs".
One of those additional fun menu speech items happens if you scroll through the menus without selecting a game, Q*bert says, "picking something already!" There are others, you'll just have to explore and see if you can find them.

Q*Bert Multi Game Board Ships Monday!
That's only two days away. If you are a huge fan of the original Q*Bert by Gottlieb, then this expansion kit would be for you. Now with 7 additional games, you can try a number of different Q*Bert gameplay versions as well as some additional games for free. You will need some sort of setup running the original Q*Bert PCB to make this work, that is the one requirement, be it a cabinet or something else.
Again, if you missed it before and think you are interested to get a board new time a set is produced drop Mike Doyle an email and you can visit Dave Widel's arcade game upgrades website for more information about the kit that we didn't cover here. If you're lucky, you might still be able to get one of the Multi Board Q*Bert arcade shirts that Mike whipped up as a fun collectors item.
Here are some similar arcade posts
If you enjoyed this post, please consider to leave a comment or subscribe to the feed and get future articles delivered to your feed reader.