Back in July Mike Doyle and I had been writing emails back and forth and he had told mentioned some sparse details about the 7-11 Q*Bert discovery. We did some email back and forth but Mike is a busy guy and I never got the details of his story. But, he did remembered me as he and Dave teamed up again to release another round of the 6 in 1 Q*Bert kits (Now 7 in 1 with the 7-Eleven version). They've got a new T-Shirt with the fun little multi game and I think it is a cooler revision to the original Q*Bert Multikit t-shirt.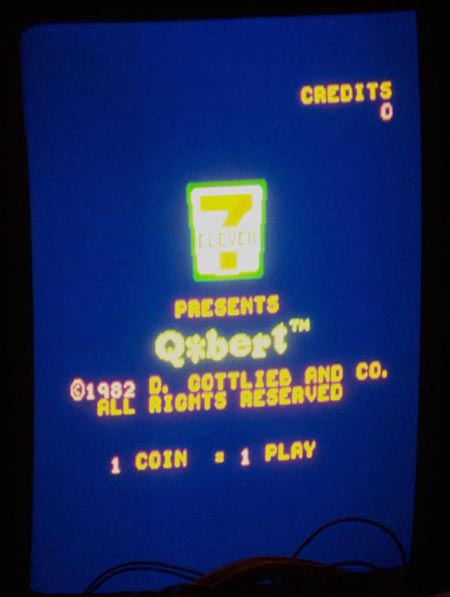 The mystery game on the new Q*Bert Kit
Mike has disclosed to me some of the new goodies on the kit but asked me not to say anything. There is a possibility, that as a result of the extra memory space that was needed for the 7-11 version, there may be room for an additional game. I am sure once the testing is finalized and the announcement is official I will be able to break that news here, but Mike gave a clue that some collectors have already figured out, a quote that means nothing to me;
"yank lacks zilc"
Due to the complete reworking of the board for the additional memory it isn't possible for a ROM update for the individual who bought the original 6 in 1 board, which is really too bad for them. Here is what will be on the Q*Bert 7 in 1 multi game board.
QBert
FHMC Q-Bert
7-11 Q-Bert
Mellow Yellow Q*Bert
Q-Berts Qubes
Curveball
Inspector
7-11 Q*Bert
Back to the Q*Bert Shirt
Here is what the Q*bert shirt will look like. Oh, and there's a couple of them….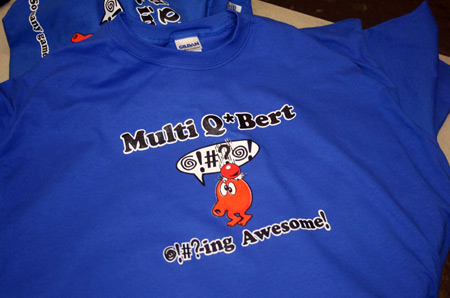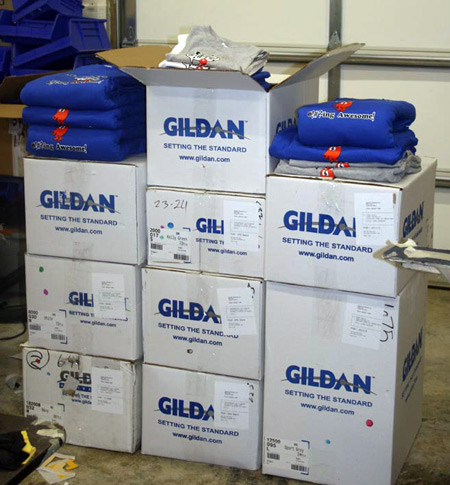 For those of you purchasing a kit, you've seen this t-shirt in Mike's email update. Definitely a nice design change. Simple, to the point design and a nice extension of the associations people have with the game. I had made some mention that my personal preference for arcade shirts are that if there is text, it should be minimal, the visuals should always carry the idea. From my perspective, this shirt hit it right on the head, but I'm just one guy.
It's nice that Mike takes on this extra goodie, tapping into his print shop friend to make these up. They probably don't cost much, but it is that extra work that makes these releases memorable. Mike has even gone so far to get some of the kids of collectors involved;
Mike was kind enough to get me a Q*bert shirt for me seeing I never got one with my kit that I bought from Mark Spaeth. He also was kind enough to get me a Q*bert shirt for my 3-1/2 year old with out the "@#!?-ing Awesome!" which was his decision but much appreciated because now he can wear it out in public.
Really nice of him. Thanks Mike for your work and for showing off your Q*Bert multi game shirt here at this arcade game blog.
Buy your own Q*Bert multi game board
Drop Mike Doyle an email and you can visit Dave Widel's arcade game upgrades website for more information about the kit that we didn't cover here. Currently, Mike and Dave anticipate that they'll be shipping this kit to pre-orders around Nov. 24th, 2008. Hopefully Dave's page will be updated with the 7-Eleven information when the board is finalized.
Here are some similar arcade posts
If you enjoyed this post, please consider to leave a comment or subscribe to the feed and get future articles delivered to your feed reader.