The Klov arcade game forums suck for usability, and don't take advantage of many of the modern ideas for managing discussions online.
Here is one way that Ning social communities totally blows the Klov forums (hosted at forums.webmagic.com) out of the water for managing your profile – your username.
Changing your profile / username in Ning
It's so easy, it's a one click ordeal.
Click on 'Settings' link that is displayed on every page in the upper right hand corner. This link isn't buried, it's one simple click to edit. Remember that.
This will bring you to a page that will allow you to easily change your username as well as a number of other things, including your current email address, password as well as upload a custom avatar. So easy, one click and save. Plus, it changes all of your posts to this username, not just future ones which keeps consistency across the forums.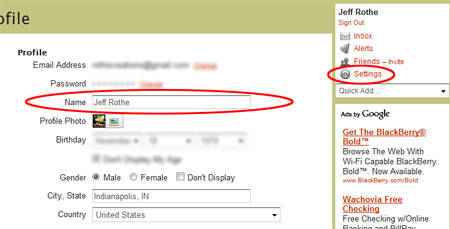 Now, look at editing your profile in Klov.
First, you need to click 'My Home' at the top, and then the first 'edit' under 'Personal Information' etc.
Then, when you get to the page to edit your profile name, oh right, it's locked. You can't change that. 3 clicks total that took Ning one click.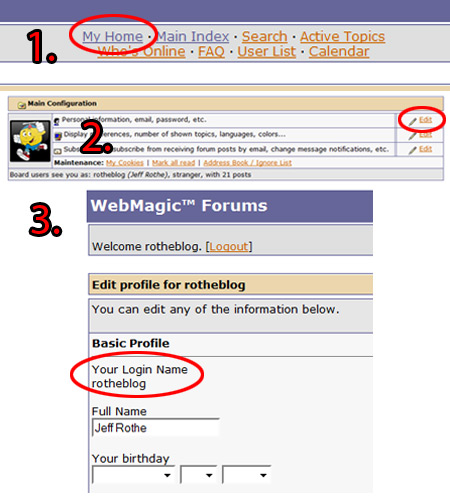 Now, this isn't Greg McClemore's (admin / moderator) fault per say, this is the forum software someone chose at the time and this is how the system works.
However, personal messaging mclemore, or trying to email him gets you no personal response back at all. Is the problem that they make no money off of Klov? I don't think that is it. If he has ownership in the regular site, the eBay ads more than pay for anything hosting fees 2-3x over.
The motivation isn't there, and he doesn't care. He probably things that trivially changing your name isn't worth his time. If someone wanted to change their name every three weeks and I had to do it manually I wouldn't do it either.
However, I think there are legitimate times. Take my example. When I first started collecting, I just registered casually on a ton of forums. Over time I got more involved, and eventually I started this arcade game blog. I think it made a ton of logical sense to change from my silly username jayrowthee (that is a phonetic pronunciation of my typical username jrothe) to my website name – rotheblog.
No response, no care. So, I lose the 250 plus post count that I had established with my profile and add to the confusion for anyone using the nightmare searching feature on Klov in the future.
Worth switching over username editability?
Just because Ning allows us to more easily edit usernames means very little, hardly a reason to switch. But there are a ton of reasons to switch, and we'll see if I can get to spotlighting them all over time because there are a ton of them.
Klov.com – Your time will come. Continue to be lazy and eventually someone will take you over in traffic and support. Probably not me, but maybe Zorg's project who needs some backers to get running, an all inclusive database of games, artwork storage and collection listings with all of the other social aspects as well.
Here are some similar arcade posts
If you enjoyed this post, please consider to leave a comment or subscribe to the feed and get future articles delivered to your feed reader.