In continuing to spotlight why the Ning Arcade Game Collecting Community is so much better than the Klov arcade game forums and why you should consider switching here is a major feature that can make your life easier – RSS feeds.
If you use RSS for reading information already, you already know the value you can get in savings loads of time, keeping up with all information, and aggregating multiple websites of information into one simple program. How much time? I would guess that if you spend 1-3 hours a day reading arcade game forums and Craigslist listings you could save up to half of that time! Here's the comparison.
Klov Arcade forums don't even have RSS capabililty!
What, are we living in 2002! Seriously, this may be a new concept but a vital feature of any modern day website – the need for RSS aggregation.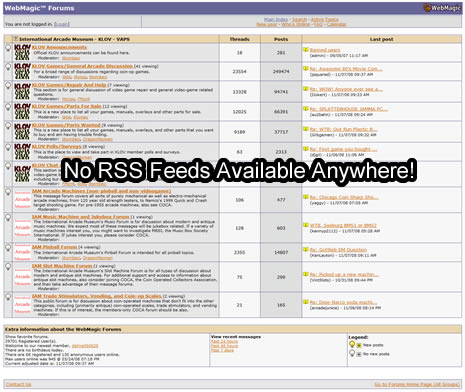 Here is how this would work in simple description. Klov has what, 7 individual forums on their website, 2 of which you probably don't read on a regular basis right?
Each time you want to find 'new' information, you have to click on the forum name and then view the forum. Usually there is a little number next to the topic showing a guess of how many new posts on that thread have been written since you were last on.
But if you are only able to view the forum at certain points in the day (say, maybe, you work or something) you may have threads that you completely missed that have been bumped off page two. Granted, you can click through each page and read everything, but the problem is if you have a bad memory, sometimes it is hard to remember where you last left off. And this is on each forum so you have to repeat this for 5 sections!
If Klov had RSS, you would never miss a post on any topic ever again. For those of you who have just barely missed out on a great deal on an arcade machine posted for a great price (Like I have on Craiglist for a Pac-man cocktail cabinet) you will really appreciate this.
And to point out again the lack of involvement and laziness by the guys who runs Klov, they have talked about implementing a new version of the forum software for years. But nothing has every happened. Just showing they could care less about the best experience for you and what is best for the community.
RSS Feeds and Ning
Using Ning, you'll never have to worry about this ever again. The arcade game community on Ning has a forums section, and if you scroll to the bottom of the page you'll see an RSS icon.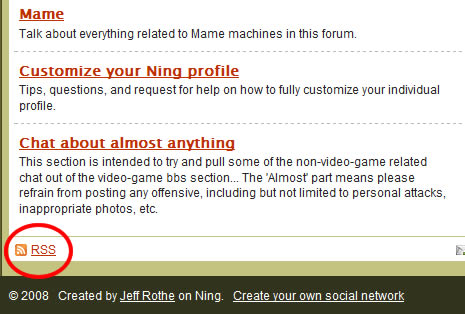 Right click on that icon, say 'copy link' (or some variation depending on browser) and open up your RSS feed reader and paste that link in. I use a free piece of software called Snarfer which works well for me, there are plenty of free solutions out there to read RSS feeds. Here is a screen from the Snarfer website (www.snarfer.com).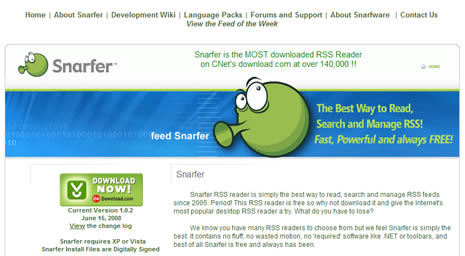 Now, you'll get to see every reply written to every topic you choose. You can mark that topic as read, or make it as unread if you want to come back to it later. You can scan the titles in a simple list, and click on the topic titles that pique your interest. When you do, you'll have a short fragment of what was said to give you a better idea of what the topic is about. Here is a small screen kind of showing you what you'd see. (There should be other screenshots at Snarfer.com)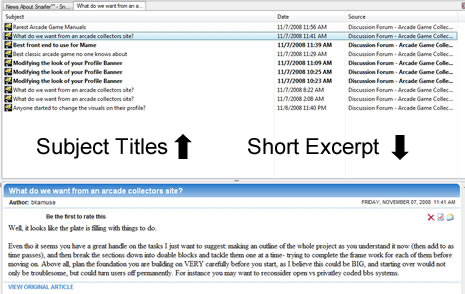 This link I pointed you to is for every arcade thread / topic on the forum. If you don't want to follow everything that is said, you can just go into each individual forum and click the RSS icon in there to follow just that information. Maybe you are only interested in repair, maybe you really are interested in the general discussion but occasionally read the for sale section – you can separate those out to make your frequency of viewing that much easier!
Other Arcade Forums and RSS Feeds
The Klov forums are the only place I have found online that are using such out of date forum software that they don't support RSS. BYOAC and RGVAC (Google Groups) both support RSS, but even BYOAC it isn't nearly as simple and as easy to find the RSS link (Listed in the busy upper navigation on the right without the trademark orange icon).

Just another way that the Ning Arcade Game Collecting Social Community has the potential to add so much value by saving you time and finding you the most important and relevant information with the greatest amount of ease!
Here are some similar arcade posts
If you enjoyed this post, please consider to leave a comment or subscribe to the feed and get future articles delivered to your feed reader.