It's super late, and I need to be in bed. I got the 80 some photos from Pat and Chris in St. Louis for the Super Auction tomorrow. Looks to be a doozie, there are a ton of classic games the night prior, which means this could fill out even further tomorrow. There are also a ton of newer, modern pins that seem to be fairly popular. Guys on Klov are speculating that some of these items would have been at the Super Auction in Detroit had it not been canceled.
Demolition Derby, Kick, Pengo, Satan's Hollow, Burgertime, Zaxxon Cocktail and More
I've uploaded those photos for the St. Louis Super Auction, and I've labeled what I could figure out from the pinball photos. All photos have been rotated when needed, so hopefully this will be easier to view. If you know Chris, give him a hollar if you want more up to date information tomorrow at the auction.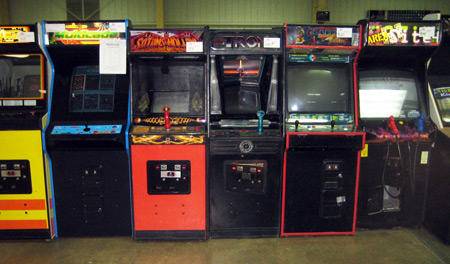 Update – Prices
I heard that prices today on some of these arcade machines were rock bottom. Here is what I can remember;
Missile Command Cabaret – $150
Satan's Hollow – $250
Burgertime – $200
Tron – $150
Multicade – $1175
Kickman – $100
I may have more prices tonight, so check back…
Here are some similar arcade posts
If you enjoyed this post, please consider to leave a comment or subscribe to the feed and get future articles delivered to your feed reader.