A cool surprise this morning. Posted in my Arcade Game Collecting Community forum, some photos of a Pac-man ripoff by 'Entertainment Industries' called Maze man. I could only find a couple mentions of the game online and no images. I won't be able to share the photos from that thread, but I do have some photos that were shared with me from another collector.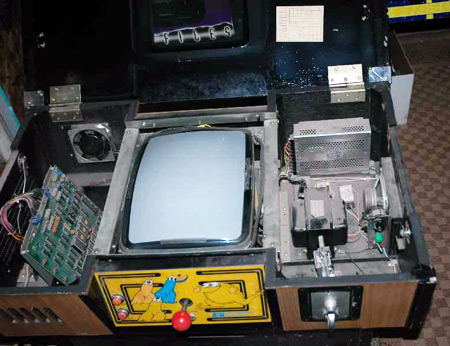 Entertainment Industries / Mazeman not on Klov
I don't know what the policy is on Klov for bootlegs, maybe there is something written someone could paste into the comments box. I couldn't even fine Entertaintment Industries listed in the manufacturers. All I could find were a couple of mentions on RGVAC of a book called 'Mastering Pac-man' by Ken Uston which had tips for the games Mazeman and Puc-One. Here is what that book looks like. (Photo Credit: Fred)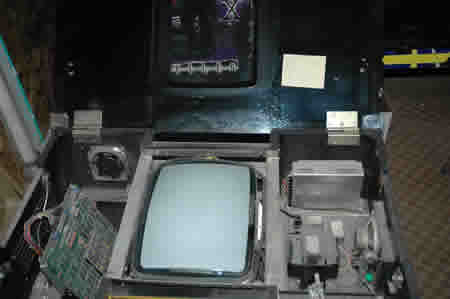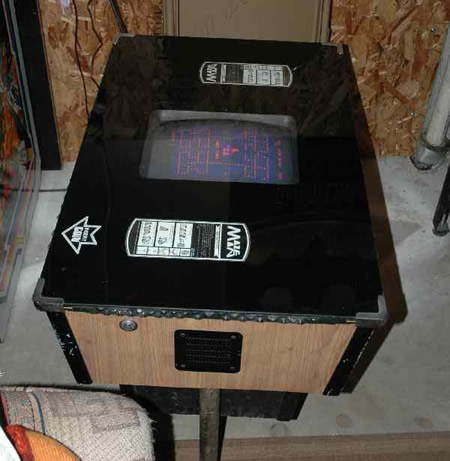 Off Topic, but again today I was reminded of what a cool little site Steverd has with his
Classic Retro Arcade Videogame books page. Great reference material, was one of several mentions of this book.
When I first saw the photo, I immediately thought Pac-man clone. But if you look at the art, kind of funny. Looks like a Frog with dainty little mittens chasing….uh…penises? Penises and beer steins, you draw your own picture. Plus the hearts kind of reminds me of the hearts version of Ms. Pac-man.
I find it particularly strange that this clone is in a cocktail cabinet. Maybe the artwork conversion kits were less and these metal leg cocktail cabinets were easy to find. Is this a Sega cocktail?
Anyone know anything else about this game / bootleg / cabinet? Did Entertainment Industries make a kit for uprights? I didn't see any information on Arcade Flyers (probably wouldn't have been publicized if illegal right?) or the old Spies website (arcarc.xmission.com).
Has anyone seen photos of this game before?
Jan. 9, 2009
I never thought I would hear of another Mazman cocktail cabinet. But lo and behold, today a second one popped up in the Colorado area. Check out the comments below for more information and here's a photo (Thanks Fred);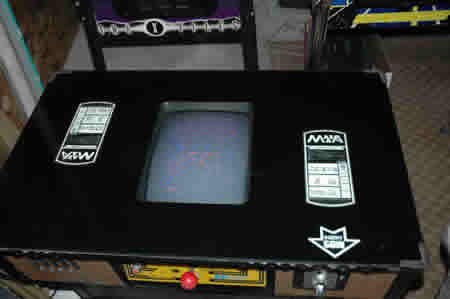 Here are some similar arcade posts
If you enjoyed this post, please consider to leave a comment or subscribe to the feed and get future articles delivered to your feed reader.