Looking for retro arcade game themed items to decorate your home gameroom? Last month Bill Johnston reproduced the Galaga War Games graphic, a unique piece of promotional arcade game artwork for the War Games movie. Bill had the Galaga headers digitally printed on vinyl and left the method of display up to the individual. There are plenty of choices for ways to mount the artwork, here is a tip on how to secure the header on top of your Galaga that will cost you less than a dollar and potentially take less than 20 minutes.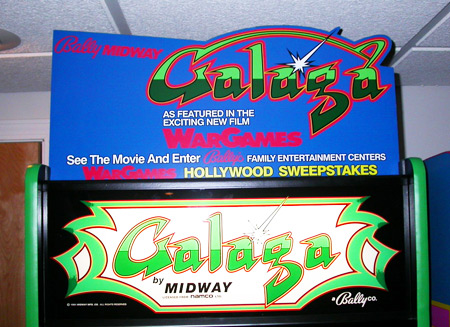 Foam Core is your friend
Bill looked at several ways to accomplish mounting the Galaga header such as a cardboard easel, trimming the bottom to the proper angle was one idea, another idea was to just hang it from the ceiling. But sometimes the simple ideas are the best, and with this tip you can mount the topper in less than 20 minutes.
You'll need a couple of small squares of black foam core or gator foam – Bill suggests 3/16″ thick. Try to find some scraps because a piece of gator board, which is more expensive, can run you $40 for a 4 x 2 sheet. Cut two 2″ x 1″ pieces and two 1″ x 1″ pieces. If you get gator board, cut slowly with multiple cuts, you final pieces will be better. The bigger pieces will go towards the front and the smaller towards the back. (If you purchased white foam core you'll want to paint them with a light coat of Painter's Touch Flat Black.)
Use a couple of pieces of double face tape (The kind that doesn't have a paper backing) and mount them right behind the marquee bracket on the top of your Galaga. The thickness of foam core or alligator board that you mounted the vinyl artwork to is the width of the space you will want to leave when mounting the small squares. Effectively you're creating a nice "SLOT" on the top of your cabinet to secure your Galaga header artwork. Here are some photos.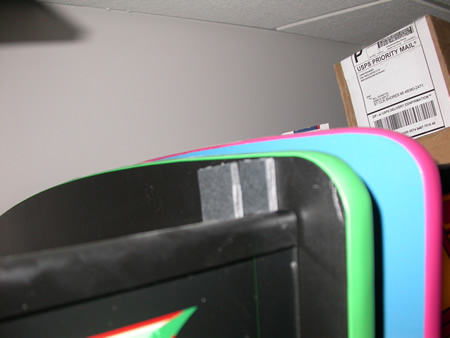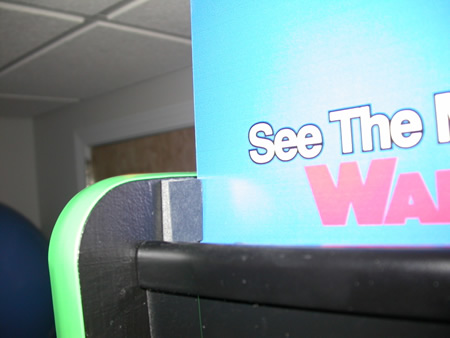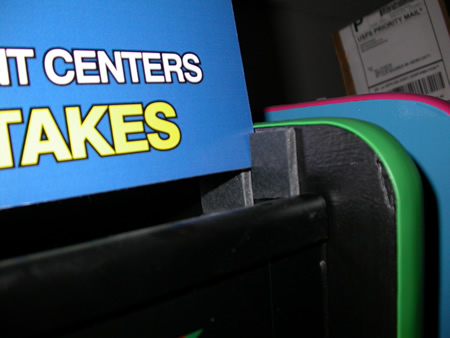 Not the prettiest solution but after everything is trimmed, mounted and the header is in place you don't really notice the easy and inexpensive solution. Just be sure that you use a good double face tape or it could come loose and damage your header. Either way, looks pretty glorious when the mounting is done. Check out another photo.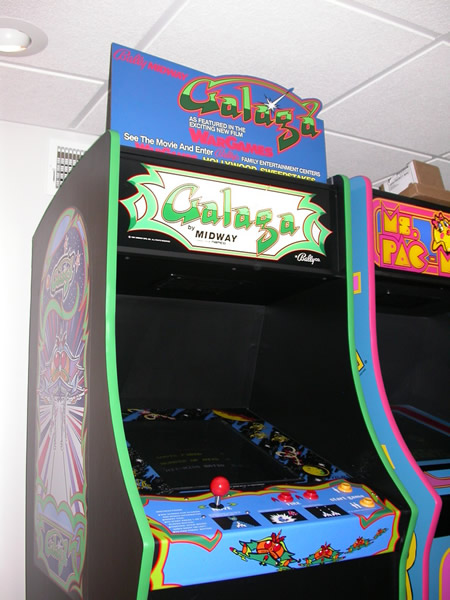 Got better suggestions? Photos of what you did or want to add your thoughts? Leave a comment. There are about 40 of these floating around out there, many game collectors will need to figure out a way to mount their header in their gameroom that works for them.
Miss out on purchasing one of these bad boys? Leave a comment if you are interested, I can check and see if Bill has any of these Galaga repros left.
Here are some similar arcade posts
If you enjoyed this post, please consider to leave a comment or subscribe to the feed and get future articles delivered to your feed reader.