Continuing to spotlight value added reasons of my new arcade social network, the Arcade Game Collectors Community, tonight a short look into importing an RSS feed into your profile. Say you already have a blog, arcade related or not. You don't want to write your content on Ning but instead continue to maintain your website. No problem, just pull your website RSS feed into Ning. It's a great way to promote your website and at the same time it will seem like you actively update your profile without having to do anything!
Your Website Needs to have an RSS Feed
If your website isn't database driven then you may have a problem with this. Database driven websites usually have scripts in them that easily parse out and generate an XML RSS feed to read into other content aggregators. If you constructed your website with the blood and tears of regular HTML, then this might not work out for you. (You can manually create an RSS feed, but that is time consuming and out of the scope of this post.)
If your arcade blog / website is running WordPress, then you already have an RSS feed whether you know it or not. The feed is always located at this address;
http://www.yoursitename.com/?feed=rss2
Import that arcade information into your Ning profile
It's so easy. First, if you notice after you create an account, on the left hand side you should see a module called 'RSS'. If you want to do like Mikey (Me), you can put your RSS feed stories at the top of your page. If you notice, when you hover over the title bars of the modules, you can drag and drop them somewhere else. Most of them have this capability minus the sections on the top left, etc.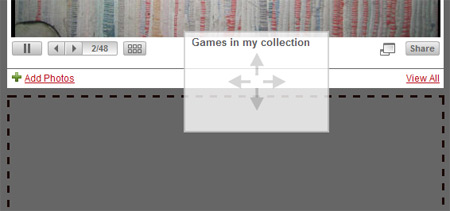 After you drag the RSS module to the top of the page, click edit and you can change the title to something more friendly than 'RSS'. Right below that you add the URL for your RSS feed. Select the amount of items to display, hit 'Save' and you're done!

You can add any RSS feed you want. You could even add in the RSS feed for the Google Groups if you want to keep up with the news there when you sign into your profile. Here is that address;
http://groups.google.com/group/rec.games.video.arcade.collecting/feeds
As I mentioned before in the 'Ning vs. Klov Round 2 – RSS Feeds' thread, the Klov forum is running such outdated software that it doesn't have an RSS feed, so don't bother trying to import any information from there.
Final notes on this short Ning Tutorial
Just another tip for customizing your profile. As always you can pop over to my Rotheblog profile and ask me questions, or leave a comment here if you can't figure something out. I can try to help.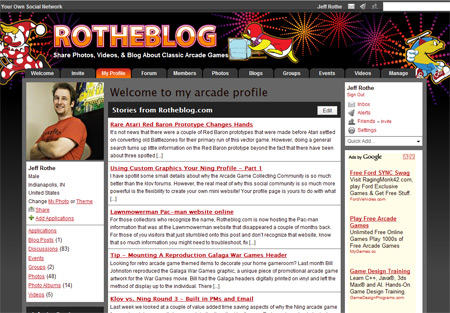 Here are some similar arcade posts
If you enjoyed this post, please consider to leave a comment or subscribe to the feed and get future articles delivered to your feed reader.