Darin Jacobs is currently polling interest from arcade collectors to see what interest there would be in doing some Warlords cocktail glass artwork reproductions. According to published documents online, 1253 Warlords cocktails were produced. However, they are fairly hard to come by and there is a good chance the average reader has never even heard of Warlords.
I admit, I'm a big gushy convert but this is just an amazingly fun game. Never played it? I've included a screen shot and an animation showing you what it's like. Try it out, you might want to find a Warlords and then you might want to get on the reproduction list 😉
Warlords – Fire, Brick, Pride – What's not to like
Warlords is a game that will get a ton of play at any party. Easy to pick up and learn and an enjoyable concept for anyone, this is a cocktail game where up to four people can play at once. Probably the most original cocktail game of all time this cabinet will always get a ton of face time.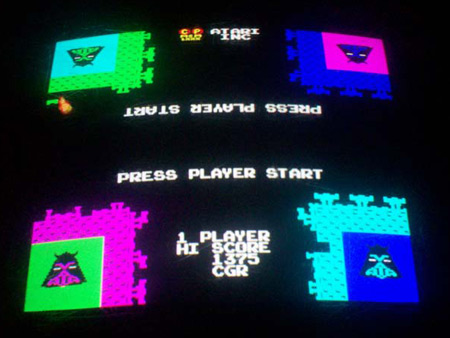 The basic premise. You are a king, guarding your castle. You have a guy you use to guard your castle controlled with a spinner. There is a fireball that bounces around the screen and you deflect the fireball into other people gradually blowing up their castle. You can briefly hold the fireball to throw harder and faster at other people to give the game another dimension.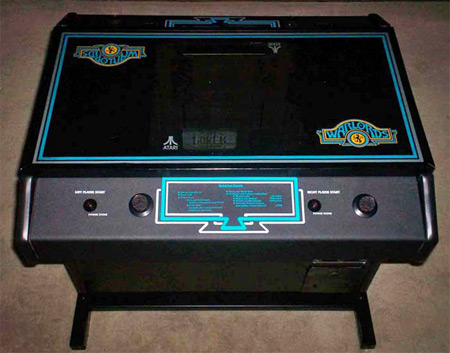 Here is generally what that interaction looks like. This animated .gif isn't of the arcade version, but the screen looks a little different the gameplay is the same.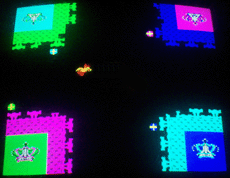 So, not too many of these cocktails exist, so the demand for these glass reproductions will be low. Heck, most of the guys that are saying they want a piece of the glass art don't even have a Warlords. But, once these are reproduced, they'll probably never be done again. So sign up now and get yourself a piece of Atari history. Darin Jacobs from Phoenix Arcade is making them from the original Atari films supplied by Scott Evans just like he did when he made the Warlord CPO reproductions. Contact Darin directly if you want to preorder one for yourself.
Oh, and before I forgot. Thanks to Brent Radio for his fun arcade site with a ton of information about Warlords, and being so vocal about this project as well.
Here are some similar arcade posts
If you enjoyed this post, please consider to leave a comment or subscribe to the feed and get future articles delivered to your feed reader.