Lighting must strike multiple times. Or that must have been the thought for any venture capitalists that invested in Nolan Bushnell's personal home robot start-up. Who knows, maybe he funded it all himself, but in retrospect it is hard to look at this article seriously.
A small writeup in the November issue of Joystik 1983, I don't think that this humorous read could be any more dated;
Androbot
Has Nolan Bushnell done it again? We'll just have to wait and see. If – in a few years – personal robots are as common as video games, then the man who founded Atari and Chuck E. Cheese Pizza Time Theaters can claim to have been at the forefront of yet another hi-tech craze.
Androbot, Inc. is Bushnell's latest venture, and he has high hopes for this small aggressive Silicon Valley company. Androbot's first commercial products are B.O.B. and TOPO, personal robots for your home. B.O.B. operates entirely on his own, while TOPO requires a home computer to control him.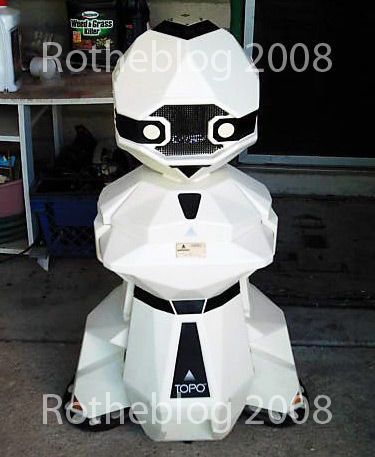 B.O.B. (an acronym for "brains on board") features three megabyte processing capability and three Intel 8088 16-bit microprocessors. Five built-in ultrasonic sensors allow B.O.B. to locate and measure objects in his immediate vicity, and this information is logge din his memory so that he can move about at will without running into things. Infra-red sensors enable him to differentiate between humans and inanimate objects (base on their temperature), so that – supposedly – B.O.B. can treat people like people and objects like objects. (In other words, he knows better than to walk up to your television set and strike up a conversation.)
TOPO is similar to B.O.B., but he has no brains of his own – he needs the help of a home computer to control him. A remote radio link will allow TOPO to receive commands from your home computer up to 90 feet away.
Both robots stand three feet tall and move about on two motor-drive wheels. They are completely stable even when they aren't moving, because of a revolutionary drive assembly called Andromotion (TM). B.O.B will sell for $2495 and TOPO will sell for $995.
A wide range of accessories will be available for B.O.B., allowing him to perform many common household tasks. He can carry things around in his Androwagon, for example, or dispense cold beverages from his optional AndroFridge. And an AndroSentry cartridge will enable him to patrol and safeguard your home.
In additon to B.O.B. and TOPO, Androbot has announced plans to introduce F.R.E.D. (Friendly Robotic Educational Device) and AndroMan. F.R.E.D. stands 12 inches tall and can walk, talk, and draw pictures on command. he has a 45 word vocabulary, but his re interest is sketching. Put a pen in his drawing pen attachment, and F.R.E.D. will duplicate any pattern you create on your computer screen by dragging the pen across your floor or tabletop. With al little planning and patience, you could even teach him to do it on paper.
AndroMan is designed to play games with you on your Atari 2600. While you control the action on the TV screen, AndroMan will be playing the same game "in real life", moving over a GameScape that you set up on the floor complete with real objects that correspond to images on the screen.
Androbot ha snot announced specific prices or shipping dates for F.R.E.D. and AndroMan.
Are you crying too?
Look out, it's the three foot robot and the angry chicken patroling the house. Stay away burglers! Oh, but if you're nice, maybe you can make the three foot robot draw a square based shape! And only for $2500! (Over $5,000 with inflation at today's prices) Wheeee-hooooo-bop—bop…I wonder if the guy writing the article was a little bit in awe of Nolan and at the same time like "What in the Hell. This guy has his beard trimmed too tight."
Funny story. Ahead of his time? Maybe, now we have Roomba. Not exactly the same thing, but the cats like 'em.
Here are some similar arcade posts
If you enjoyed this post, please consider to leave a comment or subscribe to the feed and get future articles delivered to your feed reader.