As I was doing a lot of research last night and today on the history of Dave Nutting and Associates for an interview I conducted I came across information for a sequel that was being developed for Gorf. This probably isn't news to some of you, to others it may very well be. Information is scarce, but all sources seem to point that whatever development stage the Ms. Gorf game was in, it's sitting in a corner gathering dust. You probably couldn't even label it as a prototype as it never made it to a testing stage. Is anyone pursuing this game to bring it to light?
Seems like the Mame guys would be after Ms. Gorf hardcore
I know little about hardware, and I know little about programming languages. I don't understand how the backside of Mame works, but I have to assume those guys know arcane programming languages like Forth and assembly. With that assumption, and with the large fan following of the classic arcade game Gorf, I would think everyone would want to see the game in whatever stage it was in. Here is a screenshot (via gamedev.net) of what Ms. Gorf looked like.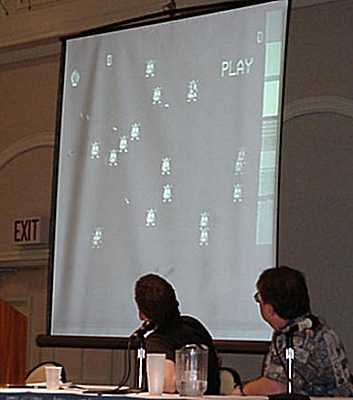 I guess the gameplay was something like Robotron? Who knows. If Gorf came out in 1981, and this set of code was being developed starting in 1982, that would be a solid 2-3 years before Dave Nutting and Associates was shut down (Around 1984). If a typical game development time took 6-9 months, this Ms. Gorf must have been fairly well developed, to almost a finished stage. A lot of assumptions for sure…
I am also assuming that, if someone isn't hunting this code down, then it's because interest has waned over time due to lack of response from Jamie, or due to the general human nature to get busy with life. Surely if we got the disks into the hands of someone who knows what they're doing, they could do something with Ms. Gorf Forth code? Right? Maybe if we got the code to Mark Spaeth, Mike Doyle, JROK or Dave Widel, and the big "IF" we could get them interested…they could do something with a bunch of floppy disks, right?
I sent an email out to Jamie Fenton, I can only hope that she has time to write me back. If anyone knows anymore, please, fill me in. It is my understanding that Jamie had some sort of consultant standing at DNA, and probably worked on the code remote from the office location, part of the reason why she owns that game outright now. It would be a cool piece of history, to say the least, to bring to light.
Here are some similar arcade posts
If you enjoyed this post, please consider to leave a comment or subscribe to the feed and get future articles delivered to your feed reader.