Three weeks ago it was a rare Red Baron prototype, and once again hard work and persistence pays off. The second of two known Paperboy prototypes is snatched up by Francis over at Ataricade. Delivered to his doorstep the biggest decision really became, what has to go?
It's all about the connections
In the end, that is what led Francis to this prototype Paperboy, one introduction and a lot of persistence. The original owner wasn't looking to sell originally, but over time changed his mind.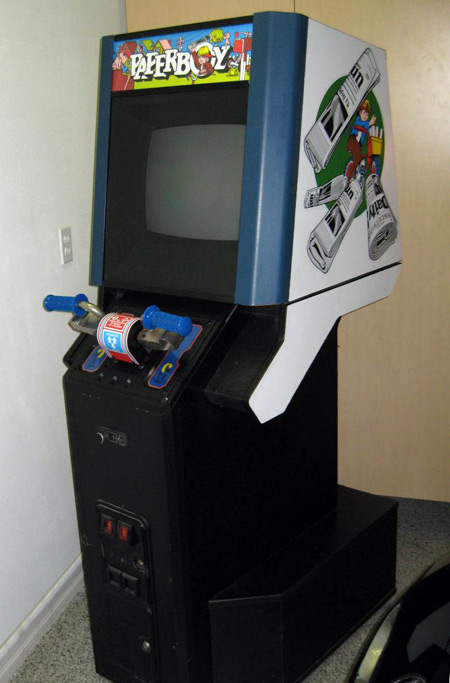 Like I said, this is the second known Paperboy Prototype from Atari, I am sure most of you have seen Scott Evan's Paperboy at the archives of Safestuff.com. The information over there is about non existent, if there is really any to share. I had seen this prototype photo before in passing, the full Paperboy sideart on a converted Return of the Jedi cabinet stuck in my mind.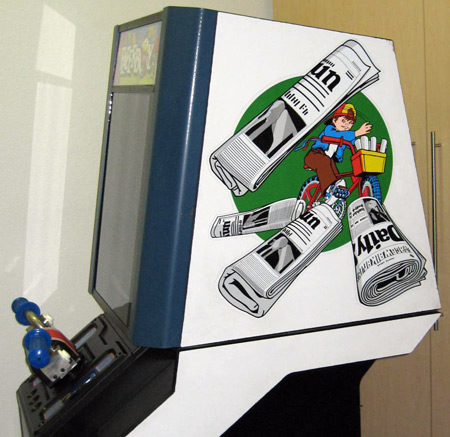 I'm a big fan of character based sideart, and I happen to like this sideart quite a bit even though the color pallette is a bit dull. I like the fact that the paper breaks the circular space and comes right out at you. Don't get me wrong, I like the System 2 cabinet with the rainbow gradient artwork, but it feels so generic, when this was clearly made for Paperboy.
However, when I see this cabinet, I do think Return of the Jedi. Obviously this artwork wouldn't work at a huge size….so maybe I'll just have to appreciate it for what it is, and the fact that this is about as rare as they come.
This harness for this cabinet is specific and is uniquely wired in the background of this cabinet. There is a switcher installed, and two AR boards with the areas where the fans were original from ROTJ used for access points for the harness. If you're looking for other info on this prototype, you can find information about another prototype Paperboy pcb over at Andy's Arcade.
Congrats to Francis
I'm sure the game came at a price, but not too many guys can say they have one of two known instances of a game. Most of us have to settle for arcade machine #7,856. Will be curious to see the updates when you are done powder coating the panel and you can do a side by side visual comparison to show off the differences in the original vs. the Prototype. Head over to Ataricade.com when you get a chance, I am sure Francis will have these and a couple more photos online in less than a week or so.
Here are some similar arcade posts
If you enjoyed this post, please consider to leave a comment or subscribe to the feed and get future articles delivered to your feed reader.