In part 5 of the tutorial showing you how to re-stencil artwork on your own Ms. Pac-man, we talked through some of the misconceptions for those of you who have never done stenciled artwork before (like me). Now that we are through that text heavy portion, let's move onto the photos showing how my taped up artwork looked following Brian Jones cabinet stenciling instructions.
Taping the stencils / Making artwork placement measurements
This tutorial is not meant to duplicate Brian Jones tutorial, only remap it in context of this exact project. Brian's tutorial is for a Stargate cabinet, and while I tend to be long winded, I knew when I read his instructions I wanted more detail. So hopefully I'll strike some sort of balance between those two things here.
Get out that diagram of the artwork dimensions of your Ms. Pac-man cabinet that we did in part 1 of this tutorial. You'll need them as we tape up the yellow stencil. This stencil is absolutely crucial, so make sure to take your time. This yellow artwork will determine placement of the rest of your stenciled colors on top of it, and if the placement is wrong, or the stripes are not horizontal, you'll have one crappy looking Ms. Pac-man.
The stencils I got were cut to a shape very close to the actual shape of the cabinet, but in this case I didn't / couldn't rely on that totally for alignment, the artwork would have been a little off.
Step 1 – Taping Up the Stencil
Tape up the stencil as shown. The photo example I saw basically had tape at the top, middle, and the bottom. I decided that because of the physical weight of this vinyl stencil that I needed 5 taped points on the cabinet. The tape that is somewhere around the middle of my Ms. Pac-man is the recommended 'hinge'.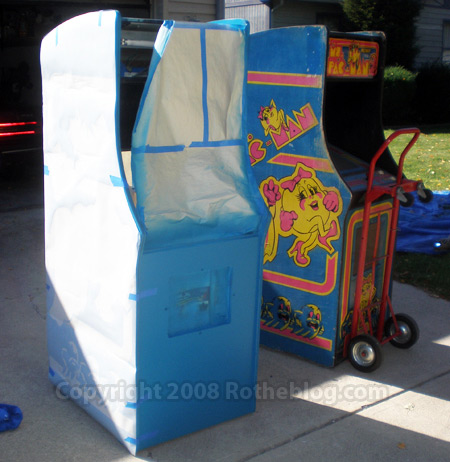 This photo is generally to show you where I taped on the curve of the cabinet and to note that placement isn't crucial just yet. I made adjustments, slightly moving the stencil, re-measuring, etc. etc. to match my original Ms. Pac-man artwork measurements. I also kept checking with a t-edge if my stripes were horizontal as I was doing this. Photos showing exactly this below;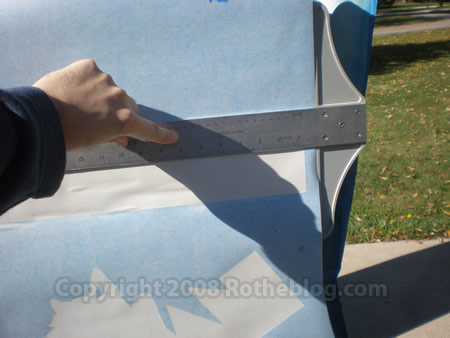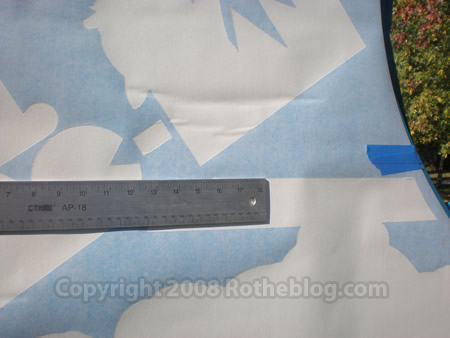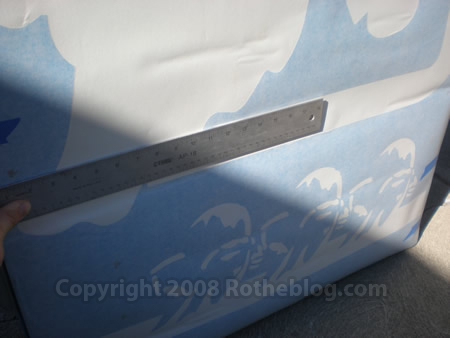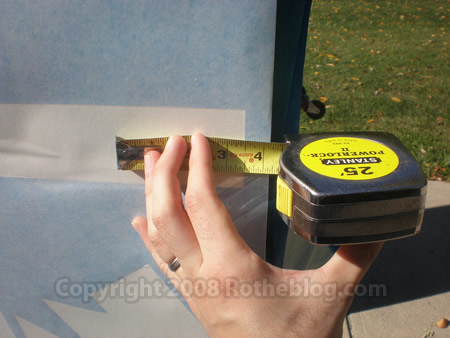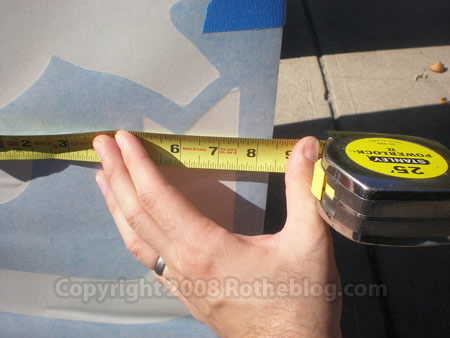 Step 2 – Loosen the tape on top
You'll let the stencil hang down. I don't really have photos showing me peeling the vinyl backing…mostly because I was home alone while doing this and because I needed both hands to peel.
My notes on pulling that backing – If you've taken backing off vinyl before, you'll know this, so skip ahead. The backing comes off pretty easy, just roll it up as you peel it off to keep it out of the way. I even cut off pieces as I went, because you don't want that artwork sticking back down. It's low tack, but taking it back up is a pain.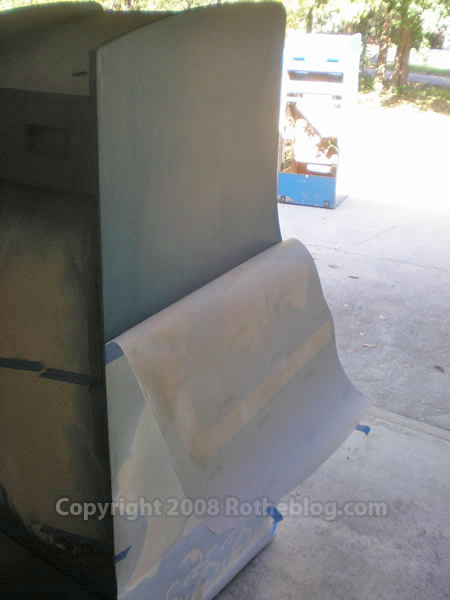 Watch the edges of all artwork, sometimes they'll need a little extra help. If you push in right under the edge with your thumb as you roll down you can usually push that vinyl away.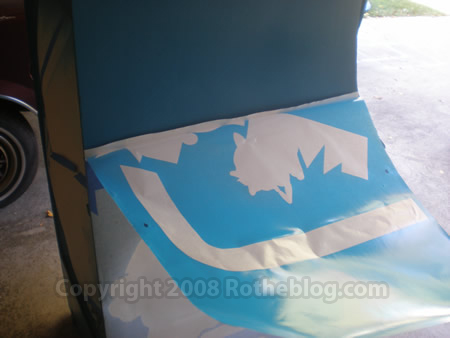 This isn't a short process for a perfectionist type personality. Expect to spend as much as a half hour for one side. In the end you'll have the artwork hanging off, looking like this;
Step 3 – Adhere the top of the stencil to the Ms. Pac-man cabinet
Going from the middle to the top you'll use a side to side motion just like Brian recommends to smooth the stencil to the cabinet as you lay it down. You have a squeegee, or at least you should (if you don't, after this side, get one) and you have a piece of wood wrapped in a paper towel or for me an old shirt. Use these tools to do your smoothing, the towel for initial tack and the squeegee when you're confident your placement on the cabinet is final.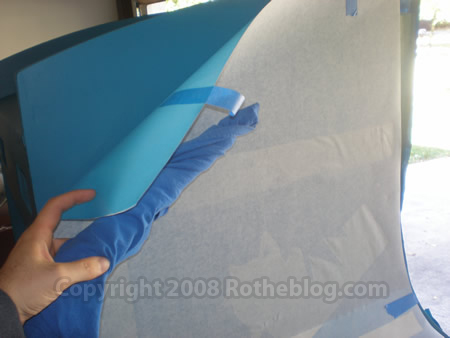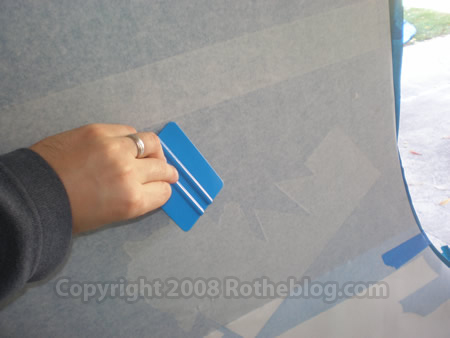 The one thing I didn't know when I did my first side, I thought that even though these stencils were 'low tack' that pulling them back up would be troublesome. However it was not. I pulled my Ms. Pac-man yellow stencils off and pulled them more taught and re-smoothed a couple of times, so don't worry too much about that, the vinyl is durable. You can kind of see this as I checked to make sure the striped artwork was still horizontal.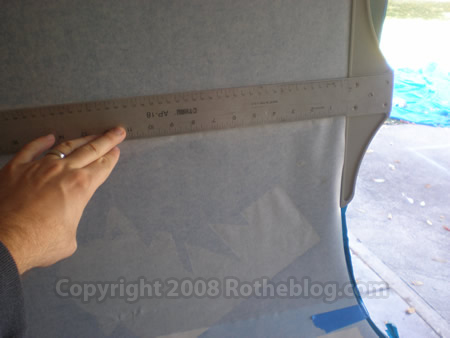 Step 4 – Fasten the bottom half of the stencil
Brian just says repeat for the bottom half of the stencil. This is true, I thought I might need more detail, but I didn't. Working on the bottom half is a pain because you are squatting and behind the stencil while pulling. I would not recommend this on a hot day. I don't know if there is an easier way, if people do this on small saw horses, I would love to hear about that in the comments section below.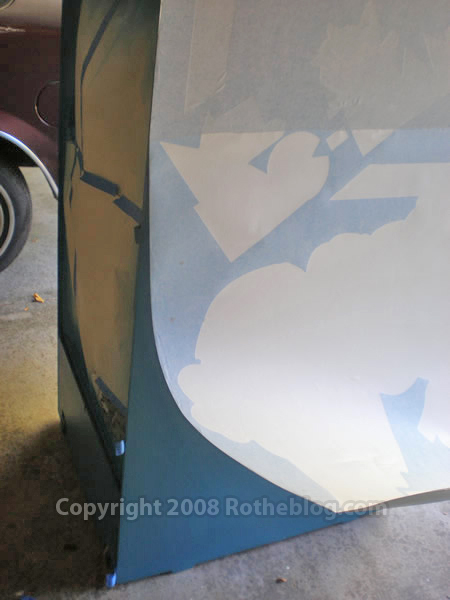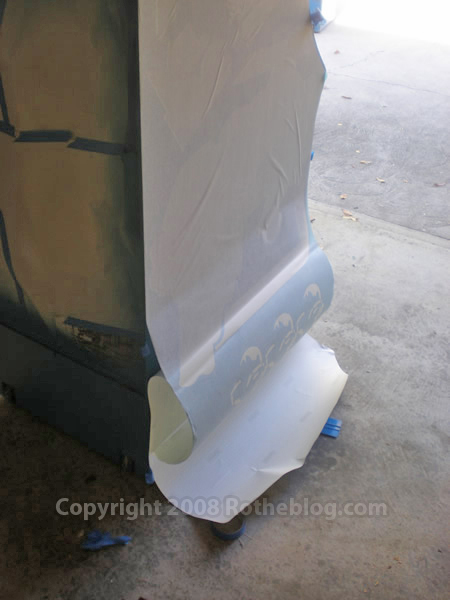 The nice part about the bottom half of the vinyl stencil is that you can pull down on it hard and really make it taught to the cabinet and smooth downwards similar to what you learned above with your towel and squeegie.
Final Notes
I am going to break the section about pulling off the pre-mask into a smaller portion, so we'll stop here. Here are some photos showing one stencil applied to the left side of my Ms. Pac cabinet with a detail. I had wrinkles in the premask that didn't translate into the stencil, the stencil was flat and without issue on that front.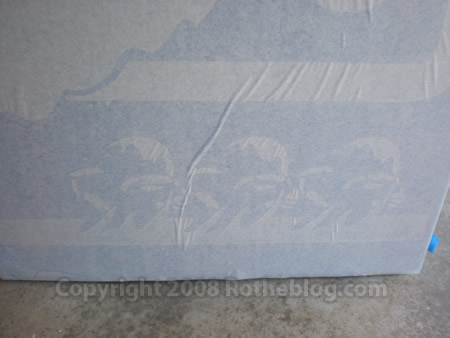 The only other comment I have is about the durability of the vinyl. Like I said above, your Ms. Pac-man stencils are rugged, they will rip if you pull the backing off too fast, but you can correct most little things like that. Don't stress about small tears, just use your painters tape, rip off pieces to cover up those areas as needed.
Here are some similar arcade posts
If you enjoyed this post, please consider to leave a comment or subscribe to the feed and get future articles delivered to your feed reader.