In case you missed it over at CoinOpSpace.com, Rich Lint posted on a thread that he used some vellum to hand trace his Scramble cabinet, has vectorized the artwork and is now doing some test prints to check artwork accuracy. Very soon, accurate Scramble stencils could be available.
Restore that Scramble
I've been approached about making Scramble stencils, but the individuals looking to restore their games always seem to fade away. A couple of attempts are made to contact another collector for scans of the artwork and then I never heard back. There is the Scramble sideart artwork file from Arcade Graphix library online, but if you follow that link and look you'll what looks like a file made in Windows Paint. I wouldn't trust the accuracy of that file to base the creation of any reproduction artwork.
Finally, Rich is doing these stencils which seem to be somewhat in demand and so simplistic you wonder why they have never been done before. Here's a tiny graphic showing the vector trace;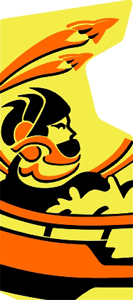 Fairly simple, with just an orange and black stencil for all of those out there who have wanted to re-paint, stencil, restore their Scramble, hopefully you'll get that opportunity soon. Stay posted here for updates.
Here are some similar arcade posts
If you enjoyed this post, please consider to leave a comment or subscribe to the feed and get future articles delivered to your feed reader.