Short post today that will only interest a few. Here is a short explanation on how to turn off the autoplay option for music on a profile page on CoinOpSpace.com which runs on the Ning software.
Easy as an autoplay checkbox
Having music on your profile page on a social network can add to the ambiance and personality that best reflects you. At least that is what people say.
However, on CoinOpSpace.com – arcade game social network, we don't want users to feel any intrusion due to the music choices of another member. So, we've stated that the rule is, you can have music, but you have to turn the autoplay option for the music off. Member can choose to listen to your music if they want, and can access it from the main music repository on their site if they choose they want to add something to their profile that you have uploaded.
Turning off the autoplay is just a checkbox.
On your profile page – find the music module – click the edit button
Make sure to 'uncheck' the autoplay option – hit 'save'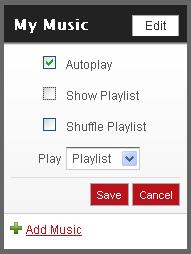 Here is what you will see on default after you have uploaded music. The autoplay option will be checked, just uncheck that option box and you're all set.
Here are some similar arcade posts
If you enjoyed this post, please consider to leave a comment or subscribe to the feed and get future articles delivered to your feed reader.