Just a short note to let everyone know that I closed up shop on my six month lived Facebook group for arcade collectors. With all of the time that will go into the CoinOpSpace.com arcade game forum and with the strength of numbers in the Arcade Junkies arcade collectors Facebook group, there seemed no need to continue. The question is whether Arcade Junkies will continue to grow.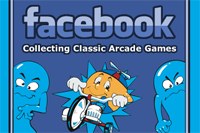 Facebook arcade groups are great for attracting new collectors
There are individuals who will avoid the MySpace and Facebook sites like the plague, just a reality. That isn't the point. Those groups can bring in new collectors, which we need, as long as they are maintained.
One of the limitations of those Facebook groups is that, members don't get notified of new topics, new replies, and I didn't see an option how. Maybe that is possible, and will be a crucial piece to continue to dialogue. But Arcade Junkies is dead, no one there is doing anything, and this isn't unique to this Facebook group. That is pretty typical.
I wanted something that I could control the graphic look as well as have control over the features, and Ning was the perfect solution for CoinOpSpace.com. Deleting Facebook groups certainly is a pain. You have to remove all members and then leave the group yourself, no easy one delete button and go. I messaged all members telling them about Arcade Junkies and my new site. Hopefully they can find a new home, I appreciate the small set of members I had…even though I never actively promoted the site. Look forward to seeing them somewhere else. (At the very least join the Diigo bookmarking group, a place where collectors from all over the world can store their bookmarks online, and pull resources from one another. Plus you can access your bookmarks from any computer while keeping them private from the world.)
Here are some similar arcade posts
If you enjoyed this post, please consider to leave a comment or subscribe to the feed and get future articles delivered to your feed reader.