In part one, Jeff P. tracked down a Journey PCB, managed to troubleshoot it and get it working and put together a parts list to remake a harness for a Journey cabinet that any other collector would have considered a lost cause. In part 2, Jeff will finish up the final details, fabrication of the harness, setting up the tape deck and gathering the artwork so read on to find out how he did it all.
Time to finish fabricating the harness
Now that all the testing was done, it was time to complete the full harness which involved a ton of crimping. By looking at the Journey schematic Jeff rewired every connection from scratch hoping to make the game as original as possible. Larry C. offered to sell Jeff a freshly rebuilt MCR power board and after made another order to Bob Roberts for molex connectors he had forgotten that were needed to connect to the MCR board.
After installing all of the wiring and the two boards there was still a problem with the audio/cassette amp board, or the lack of having one. Jeff decided to install a cheap PC speaker for the time being. ($10-$15 cheap range – purchased from Milwaukee PC) He pulled out the amp board, made sure it used 12 volts, traced the wires and soldered new connections for the power and the audio in/outs.
An unlikely savior – Radio Shack
Journey is nothing without the cassette deck playing the soundtrack as you play. Jeff paid a visit to Radio Shack and bought the very last cassette deck in stock ($40). Just about any cassette deck should work if you are trying this project at home, the more compact for mounting later the better. The cassette deck meant an order for a third round of connectors to be able to properly wire the deck up to the sound board. Here's the old style deck as it sits now in the cabinet.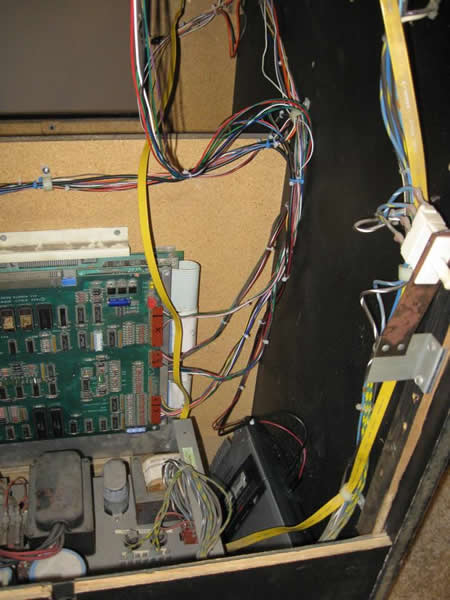 Jeff got home and took out the soldiering iron. It was time to finish soldering, wiring the harness and connectors, tying up the loose ends to see if the game powered up and played…with sound! The whole process of building and soldering this harness took 12-15 hours! So prepare yourself if you plan to try this at home.
There is no game without the controls
Depending on your conversion, you may have to find a replacement control panel or do some patch work on the original metal to get your Journey back to a playable condition. This was the case for Jeff's Avengers conversion.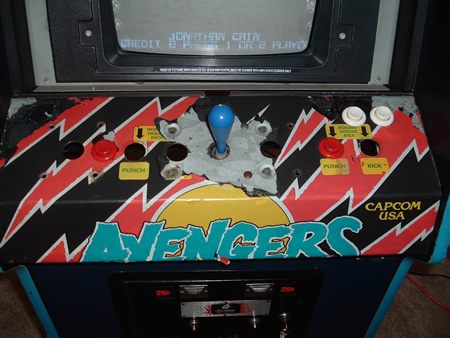 The control panel had some holes that were not needed and in Jeff's case, he is an auto technician and has welding and grinding capabilities. You can see the before and after shots here showing the original 10 holes to accommodate all the fighting buttons that were then epoxy patched and reduced back down to the original 5 holes.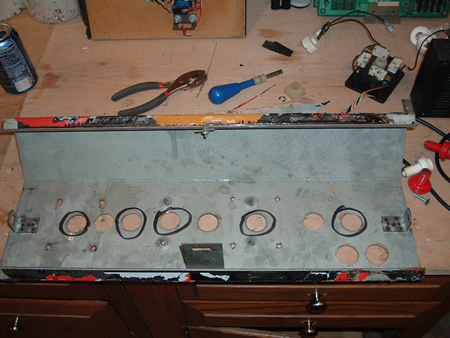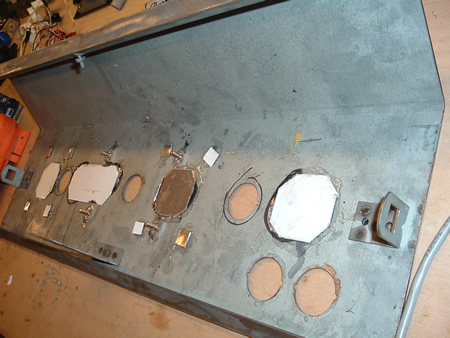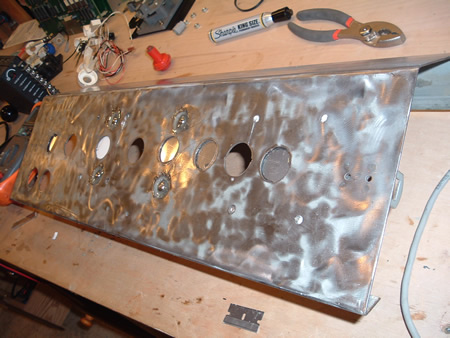 For testing the control panel was left as is, but before adding the new overlay later Jeff then filled in the low spots with Bondo and sanded those holes flush.
Jeff also had to use a metal adapter plate to mount a new Wico joystick to the underside of the control panel, so this truly was a completely rebuilt panel for this Journey. If you've got questions, Jeff probably did it.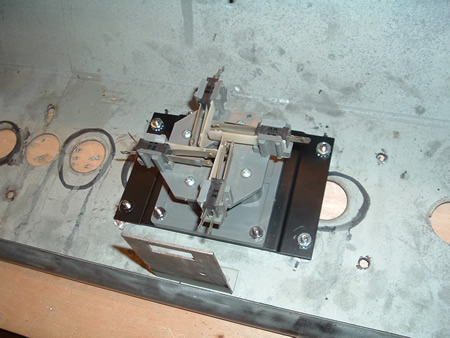 Journey lives – albeit without bezel artwork
Jeff got all of the components (PCB, Sound Board, Control Panel, etc.) installed;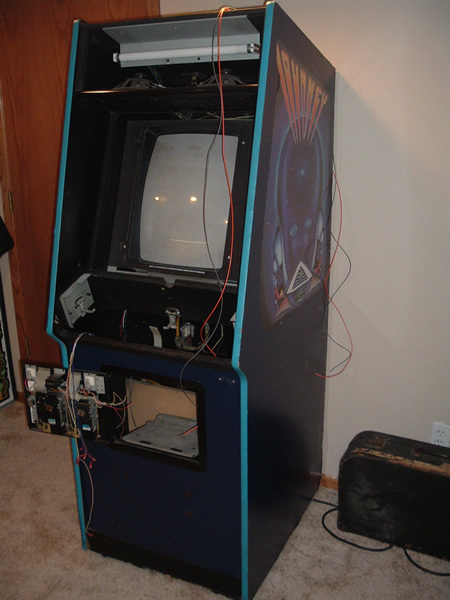 and checked the sound amp first;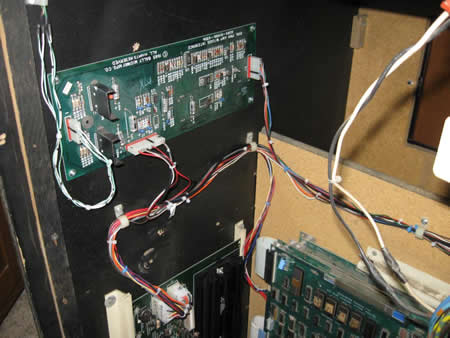 When he powered it up there was sound!! And the people rejoiced! The amp works!! It's not hard to get caught up in the momentum of excitement now, Jeff continued forward to wire up the cassette deck.
Here are some photos showing how everything looked once it was wired up.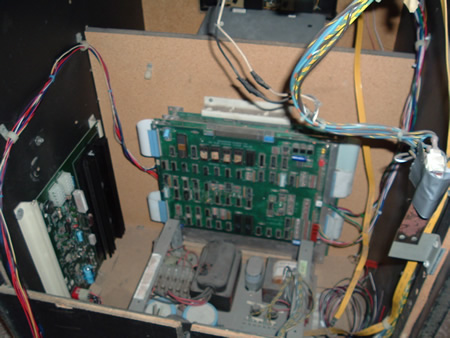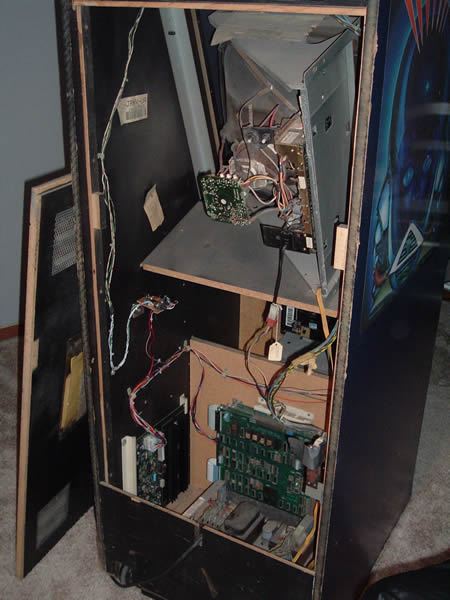 Next step, put the machine in test mode. Like most midway games, the test mode switch is mounted on a bracket inside the coin door. However…if you ever undertake a project of this size, you will discover that items like this are missing. This was the case with the Journey, no test mode switch. In order to make the board go into test mode it was just twisting the un connected wires, pretty simple solution for now until an original midway switch is procured.
Jeff didn't have a Journey cassette handy, instead using that mixed tape from his 8th grade girlfriend to test that things were working 🙂 JK.
The one tip here, make sure the sound is turned up on your speakers first otherwise you may think "Aw, what the heck now!" Jeff had a make shift micro pot for the moment while he finds the right one just for the sound;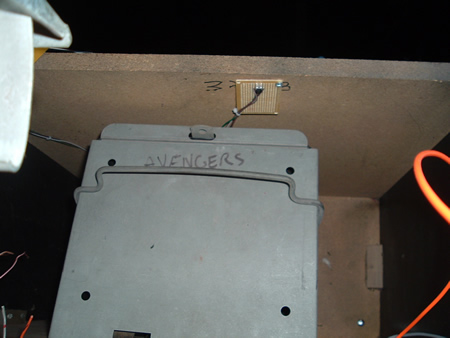 Don't just turn it up, crank it up. You've just fixed a Journey PCB, and rewiring the cabinet from scratch. You should be jamming like it's 1999.
The last piece of the machine to restore now that everything is working – the artwork.
Jeff got a reproduction Journey marquee and control panel overlay from MameMarquees.com. The Journey overlay is a smooth vinyl inkjet print, not like the screened polycarbonate reproduction that (as of this writing) Brian Jones has in stock at GameStencils.com.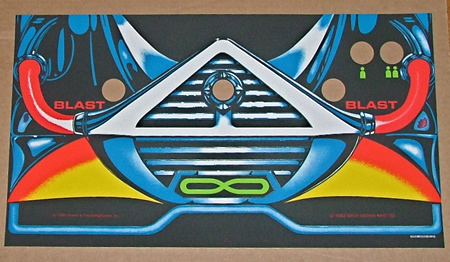 That leaves the bezel and the sideart. The side artwork, while not terrible, would be that much better with a new set 🙂 New digital prints of the Journey sideart are very close from ThisOldGame.com, and should be ready for purchase in the next several months.
What is left before the Journey restoration is 'perfect'
I mentioned that bezel artwork right? Well, over Christmas Jeff got high resolution scans from Joe M. in Chicago (who also has a Journey), of the bezel artwork and right now Jeff is in the process of trying to figure out how to have a digital reproduction made. Rich Lint loves Journey (hence the sideart prints above) and is now looking at the scans to see if he can use them or if he will just scan his own Journey machine and print inkjet artwork from that. Jeff is so deep that he'll probably end up stripping the cabinet and repainting it before he applies brand new sideart. This machine is going to look amazing! As pristine as you can look without owning the HUO Journey that was purchased last year in Chicago.
Jeff also got a pack of 3 minute looping cassettes which he plans to transfer a self made Journey wav file that best reproduces the music (Separate Ways) from the original game.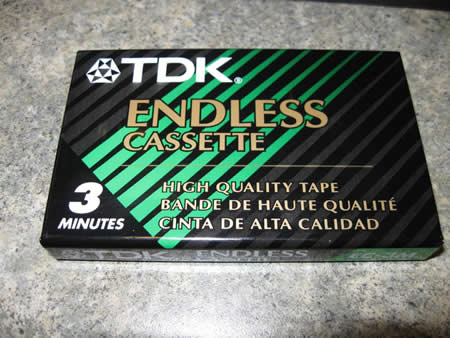 Those are the major items left to tackle, here is the shorter checklist so if you are struggling with a similar item in converting your Journey back, Jeff will probably have solved these issues by the time you read this;
Make 3/4″ plywood semi-enclosed shelf to mount the cassette deck to the cabinet
Find the proper 1k ohm pots for both volume controls (Journey has 2 pots – 1 for the game and 1 for the tape)
Find an original / proper bracket and switches to reproduce the test switches.
Closing Remarks – Questions on your Journey project
Some items here weren't covered in depth, but we have give you a good base on how to restore a converted Journey cabinet. If you have any questions or need further clarification / sources for specific parts leave a comment and we'll connect you with what you need.
Here are some similar arcade posts
If you enjoyed this post, please consider to leave a comment or subscribe to the feed and get future articles delivered to your feed reader.