That is something that was mentioned in passing tonight on CoinOpSpace.com. Rick Ford said that he will be getting some vellum after Rich at This Old Game.com showed collectors that it is possible to manually trace (with a pencil) artwork on the side of a cabinet. Every collector wants to do it all so let's hope that Rick follows through if not now sometime in early spring.
Bubbles Stencils
If you've been waiting to restore your William's Bubbles cabinet, the time might be soon at hand. Since Bubbles stencils aren't available, if you don't want to wait but you have a cabinet that still has artwork in tact but weathered, you could do the tracing yourself. Drop Rich at line at his website and he can also send you vellum so that more than one person is working on doing some tracing. (Photo credit – Hugh M. Bubbles Game)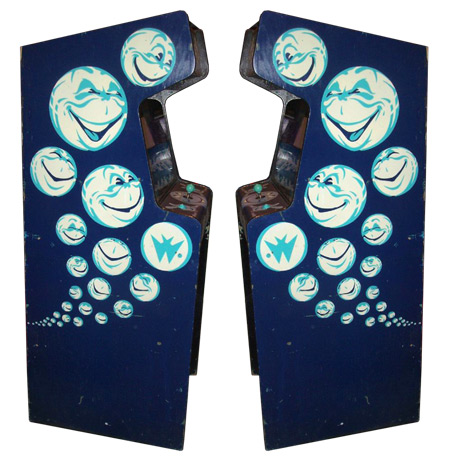 Either way, I think that offering up this method will really empower collectors, like I said when I originally announced Rich's blog post concerning Scramble stencil artwork. Rich hasn't come out and said, "I will definite produce Bubbles stencils". But he did make the offer to send the vellum, so production is a little implicit. I think we'll see other collectors step forward and make stencils available that we didn't have before which is exciting for everyone. Stay posted here and we relay any updates we hear, when they become available.
Here are some similar arcade posts
If you enjoyed this post, please consider to leave a comment or subscribe to the feed and get future articles delivered to your feed reader.