Big fan of Smash TV? I will say that I am a pretty big fan of the cabinet artwork, even though the gameplay isn't my cup of tea. After a year of patiently waiting and revising, Mamemarquees.com just finished color matching the artwork for the Smash TV reproduction control panel overlays and they are now ready for sale.
Accurate Reproductions are Time Consuming
This is a fact. The artwork in some cases can be easy, and if you take a look at this detail of the Smash cpo artwork you can see that it isn't all that complex. But it is the final steps in getting the colors just right which is the time consuming testing period. Plus there is always the fact that you have to find a piece of artwork that has the best approximation of natural colors (not too faded or distressed by wear) to get the colors that best match the remaining population.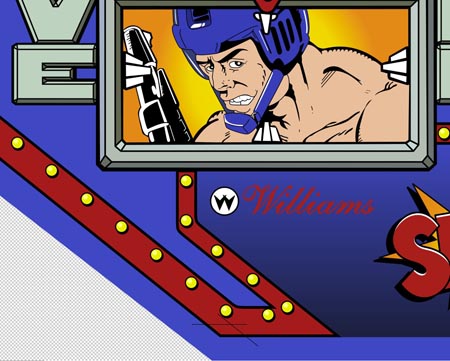 I haven't personally bought any product from Mamemarquees so I can't give a personal testament to how I like their work, but Jeff P. was satisfied with his Journey artwork reproductions that he bought (marquee, overlay) and I trust Jeff. If you need a Smash TV overlay, this may be your best option.
If you buy one, report back here and let me know how they are, leave a comment. I think the fact that Scott took a year to make sure everything was just right would be a good indication that this is a great product.
Here are some similar arcade posts
If you enjoyed this post, please consider to leave a comment or subscribe to the feed and get future articles delivered to your feed reader.