I love getting packages in the mail, especially when you generally know when they're coming but not when. We were away from home over the weekend, but when I got home there was a package sitting at home waiting for me with some more pieces for my Mad Planets, pieces I wasn't sure I could get but then became available this week and now they're in hand.
Mad Planets marquee and the flight stick
The marquee was the one item that I was nervous about finding for a decent price. I haven't been watching marquees on eBay for very long, but I knew I didn't want to wait long either and was hoping that one would come up for cheap before May. Who knows if that had happened. I got this marquee just for what I wanted to pay, and got a flight stick in the package too.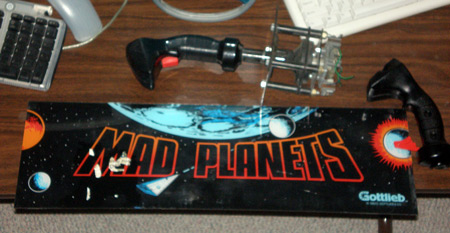 Granted, it's a Gorf joystick but for what I got the parts for it was an amazing deal and I feel lucky to have met the right people to have gotten it.
So, let's see. Last week I got most of my Mad Planets parts, the bezel artwork is done, and the underlay artwork is started. The four boards are heading out in the mail this week to get checked over so they're ready for May. According to my last post I may be missing parts of the Mad Planets harness, and I am not know what until I get to putting it all together. I think I have a cabinet lined up and know that Gamestencils sells Mad Planets stencils. But, if you know of a Mad Planets cabinet that someone has for sale for a fair price, let me know. And if you think you can help me identify what I may / may not have in my harness, that would be a great help too.
Here are some similar arcade posts
If you enjoyed this post, please consider to leave a comment or subscribe to the feed and get future articles delivered to your feed reader.