I'm still in shock, these things can transpire so quickly. Yesterday was a normal day, push through the leadership coursework, caught up with a couple of people, sit down in front of my computer and what do I have waiting in my RSS feeds? A Mad Planets for sale for $100 in Evanston on Craigslist. But the ad was posted at noon, surely it was gone by then. It wasn't…and I even got it cheaper!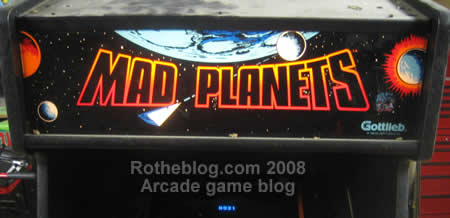 This Mad Planets has some interesting connections
I am hoping that a few more in depth stories will be coming out of this soon, it was an exciting day.
Last night, I was able to get in touch with the owner and I couldn't believe that after 12 hours he still had the game for sale! We made an initial agreement and then I had a buddy go to Evanston, shocking, and pick up the Mad Planets. Knowing how this hobby is, I knew I had to move fast and demonstrate my commitment to coming to get this game right away at the asking price. In the end, he was so nice that he went out of his way to take another $50 off the Mad Planets because he knew the length of the drive for pickup and because he just needed it out. $50! And it turns out, just like the Craigslist ad says, the game does work, a fully working nice looking Mad Planets for $50. I am so pumped, here are some photos.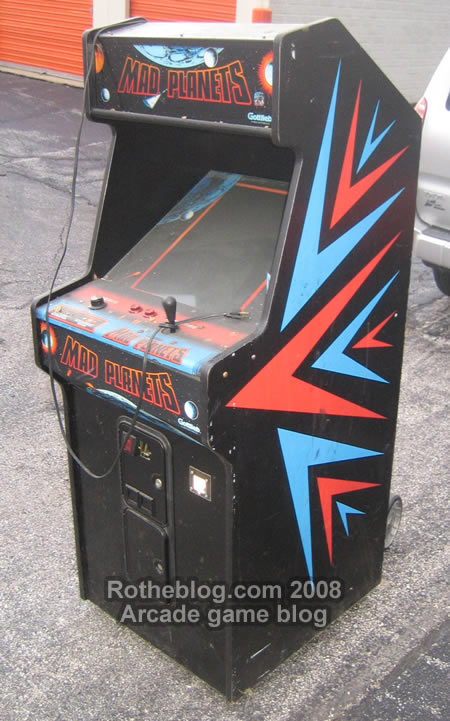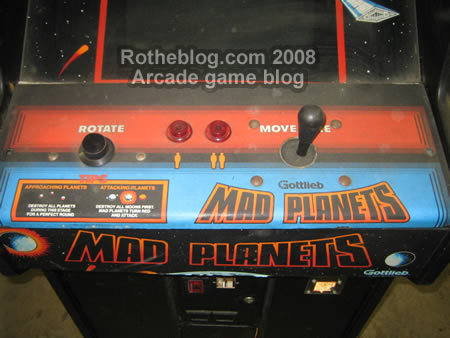 The control panel is what struck me, it looks really good. I haven't seen too many Mad Planets, but in photos I see a lot of the control panel overlays worn away on that front edge and rust showing through. This may have some minor spots like that, but nothing major.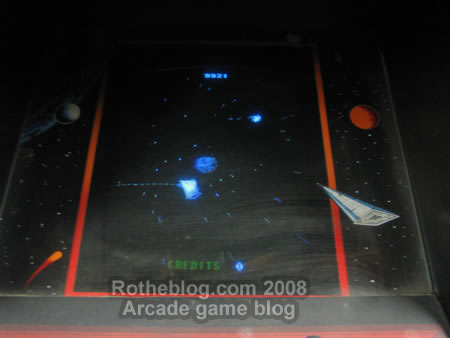 The game isn't perfect, and will need a once over, but still.
Now I have all of those Mad Planets parts
I guess having most of the Mad Planets boards, marquee and other parts is a good thing, backups in case I need to replace pieces of a game where parts are hard to come by. It was a great monetary deal, but it should work out on many other fronts. I don't have to use a Q*Bert cab that was intended to be built into a full project, and I don't have to spend several long days restoring the game from scratch without knowing if everything would just 'come together'.
What does this mean for the bezel artwork or the underlay artwork? Well, I don't know. The Mad Planets bezel artwork is finished. It needs color matching and probably some checking on dimensions but it is ready otherwise. I put about 2 hours of work into the Underlay, so the vectors for that are started but no where near being done. For both pieces right now I am wait and see.
When I learn a little bit more from the owner on how long he had it, where he bought it etc. I will definitely share. If you have a great story on how you got your Mad Planets leave a comment below. I have met most of the guys now that own them and are visible in the community and know some of their stories, but not all of them and wonder if someone has another cool recollection to share.
Here are some similar arcade posts
If you enjoyed this post, please consider to leave a comment or subscribe to the feed and get future articles delivered to your feed reader.