I've had little bits of time here and there, some in the hospital, where I was able to work on vectorizing the Mad Planets artwork that is under the control panel facing forward, which I'm referring to as the 'Underlay' to keep it simple. However, with my $50 Mad Planets Craigslist deal last week, it appears that I don't 'have' to finish this artwork. But I like the game enough that I may….
I need a full scan of the Mad Planets underlay
I got through most of the artwork that I could that wasn't broken from some small tears in the bend or was off to the left or the right side. Scanning those parts on the cabinet is going to be near impossible, the whole face doesn't just come off the cabinet, and I haven't seen an edge to edge scanner that could go flush and get the moon and the blazing planet scanned. I would need an NOS piece of artwork to trace that stuff accurately.
None the less, here is how far I got in the keyline view in Illustrator;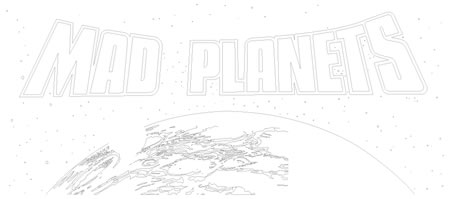 I had two guys approach me with NOS pieces that said they could supply them if needed. I am still on the fence, I feel like the piece is 60% done and it would be cool to finish it and not just leave it half done. Plus, in the printing sense it might be easier to make a more accurate piece of artwork seeing as it's just the vinyl material / or polycarbonate vs. the extra hassle for true die hard collectors who would want to mount the Mad Planets bezel artwork to some cardboard.
So, this post is just to say "This is how far I got". I don't have definite plans to continue, if you feel strongly otherwise, pm me and we can talk about it but as for now this project has run it's course.
Update – June 7th, 2009 – I finished vectoring this piece of Mad Planets artwork. Visit the finalized Mad Planets underlay post. Just waiting on someone to front the money to have a small run of silk screens made so that the artwork is reproduced right.
Here are some similar arcade posts
If you enjoyed this post, please consider to leave a comment or subscribe to the feed and get future articles delivered to your feed reader.