A quick post today, this past week a Sinistar shirt sold on ebay for $25. What a grabbing headline right? Well, this shirt was one of 25-30 that were made in a limited run for the original Sinistar development team while they were still at Williams. That's a little better. The shirt was worn, had some light discoloration, but the important thing is the story that came along with it.
Game development teams and their shirts
Before this story was lost to the annuals of ebay, I thought I'd snatch it up and keep it republished here. The general idea is that game developers make shirts as a personalized thank you to all of the members who worked on the development of a game. I don't know that Atari did this, but I know Brian Colin from GameRefuge. talks about doing this with a number of the games he worked on including Rampage. Apparently Williams was no different.
The guy who was selling the shirt did some Sinistar game testing and 'animation suggestions' and apparently re-discovered the shirt in an old box of stuff. Now, the story could be made up, he could just be some guy, but on the RGVAC marketplace the Sinistar shirt auction was mentioned and Joe M. bought a Bubbles team shirt off of the same guy a few years back. Based on how the recollection is written and that Joe M. bought a shirt and trusts the source, and the level of detail in the story would made it fairly trustworthy.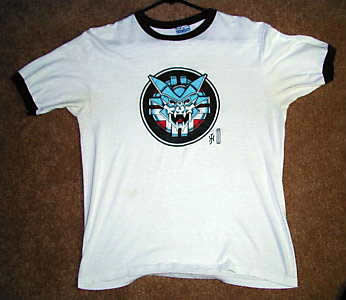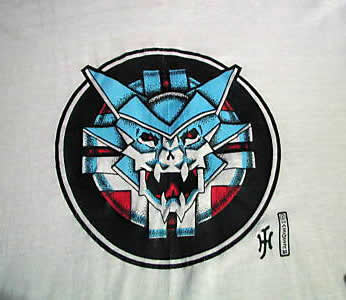 One of a Kind Item. Williams Sinistar Project Team TShirt.

This is a truely one of a kind item. At Williams when a game was launched the project team would commission a tshirt and give these out to people who contributed to the project. These designs were produced in limited quantities, usually less than 30. I was fortunate enough to be working at Williams in 1982 and 1983 when Sinistar was being developed and launched and for my efforts (mostly play testing and animation suggestions), I was given a Sinistar tshirt. This is that tshirt. Yes, it is 26 years old. It was designed by Jack Haeger, the primary artist for Sinistar and the person responsible for creating the unique look of the game.

This tshirt has been in a drawer and a box for a number of years. It was found when we unpacked some boxes that had been moved twice without being opened. After taking one look at it, as much as I would love to wear it again, I knew it would never fit. I am no longer an L. On a good day I can wear a large XL. I will never be an L again. So it is time to part with my beloved SiniShirt.

I know the terms "One of a Kind" and "Rare" are horribly overused, but I think they are appropriate. There were approximately 30 of these shirts produced and then the screens were destroyed. At least 5 of the shirts were destroyed in a "touch" football game about a year or so later. This one survived because it had been in the wash. An Atari tshirt I was wearing was not so fortunate. As to where the other 24 or so are, your guess is as good as mine. It is likely they did not survive.

This tshirt is not new. It has been worn. It still has some very faint coffee stains from the 49 hour without sleep "AMOA or Bust" programathon to get Mystic Marathon completed and ROMs burned and shipped to the 1983 AMOA Show (where Sinistar, Star Rider, Bubbles and Mystic Marathon debuted). That is the bad news. The good news is that the shirt is otherwise in good shape, there are no holes in it, the collar is not ripped and the hem at the bottom is intact.

All of that being said, this is your chance to own a piece of Video Game History. If you are a fan of Sinistar you need this shirt.
The shirt ended up selling for $25, the original asking price. I don't know what the Bubbles shirt sold for on ebay, but my guess would be for about the same amount. If you missed out, there is an offhand chance that Brian Colin and another collector may reproduce some of the limited edition arcade shirts from Bally Midway, so if you missed the Sinistar auction, you might try these instead. Or you can ask him yourself when we chat with Brian live on Coinopspace.com on March 31st.
Here are some similar arcade posts
If you enjoyed this post, please consider to leave a comment or subscribe to the feed and get future articles delivered to your feed reader.