Last night on Coinopspace.com Steve Wiebe dropped by for over an hour and a half to chat live(longer than expected) with members at the site. Although the chat was hardly perfect or smooth at times, it was a success in many ways….the most important being that over 35 individual members questions were answered live by Steve and over 90 members attended the chat.
Questions for Steve Wiebe that were off the beaten path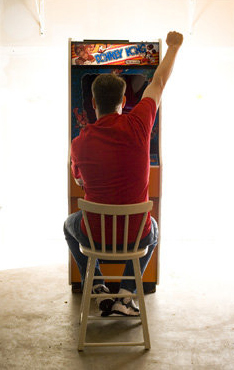 That was one of the things I like the most about the live chats, is that you get a myriad of questions from users, obscure and not, that really expand the knowledge about any one arcade related figure. In contrast, an interview is very one sided where the agenda of the interviewer or the media channel is apparent.
The plan right now is that if we can retrieve a transcript, to get that information published in Gameroom Magazine. So, if you missed the chat and don't subscribe to Gameroom Mag, you'll probably want to look at picking up the June / July issue for sure.
Just a couple of cool things that came out if you weren't able to make the Steve Wiebe chat;
Sounds like Steve has officially retired from making a run at the game Stampede
Next game Steve may look to conquer – Popeye
Theoretically Steve said you can get as high as 1,250,000 on Donkey Kong
Being Famous has some perks

Drum solo at a Rush concert
Meeting Rascall Flatts backstage
Throw out a pitch at the local minor league baseball game

As well as other little snippets.

If you were around for the chat, leave a comment about what piece of information was most interesting to you. Comments pertaining to problems with the chat should be placed in the chat thread and will be deleted from this post.

Here are some similar arcade posts

If you enjoyed this post, please consider to leave a comment or subscribe to the feed and get future articles delivered to your feed reader.