Remember the Dig Dug cabaret artwork that I worked on last September? This Old Game posted an update to let us know he has started printing that limited run of overlays.
Films made, black artwork has been printed
Rich made a blog post about matching the colors on the Dig Dug CPO about two weeks ago. Getting the colors right took some time, some back and forth of samples to the owner proved that the blue or purple, the main fill color on the overlay artwork, proved to be different from a Dig Dug upright to a cabaret.
But that got squared away and this week Rich shows us the Dig Dug cabaret artwork films and that he has printed the black.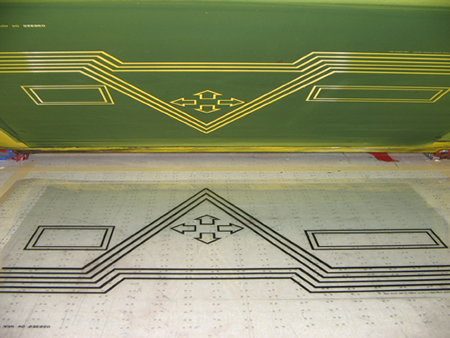 The Dig Dug overlays could be done as early as this week if not by the end of next week.
Here are some similar arcade posts
If you enjoyed this post, please consider to leave a comment or subscribe to the feed and get future articles delivered to your feed reader.