In the midst of all of the craziness, a couple weeks ago one of those bootleg like white Mr. Do! machines came up for sale in the Chicago area! I have only heard or seen these Mr. Do! cabinets in New York, or in Massachusetts (and one in California that was hauled back many miles) so to see one come up on eBay for a relatively cheap price I knew it was now or never.
What to do with two Mr. Do!'s?
I am not sure just yet what I will do with this cabinet, I'm just happy I got this rare Mr. Do! that less than five people on the planet actually want. My collection has grown by 33% in a week. I really would like to turn this into a Mr. Do! Run Run, I have all of the correct original bezel artwork vectorized, the potential is there to reoriented the graphics and have a horizontal piece of artwork printed to mount on plexi.
It's not an April Fools joke; big thanks to Chris for taking his time to get me some photos.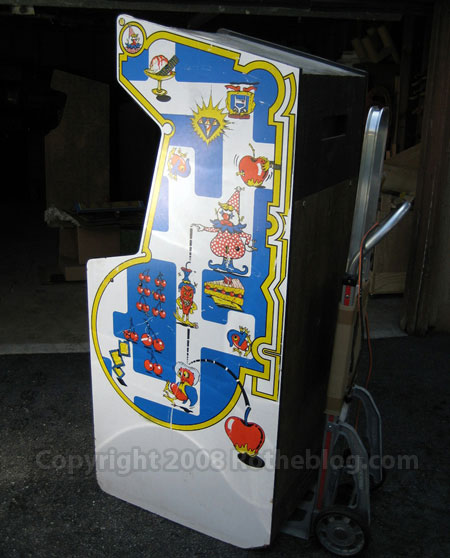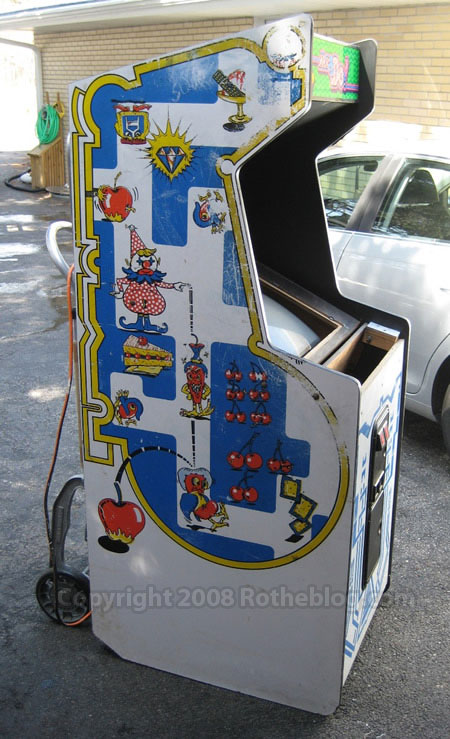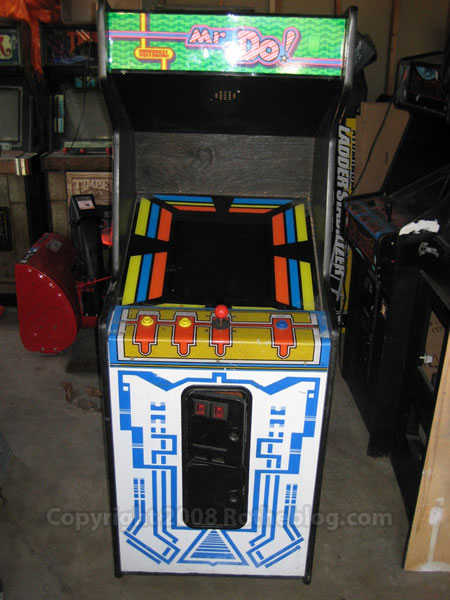 I only bid because the sideart was still in such great condition, and I've heard that the artwork on these strange bootleg style cabinets was more of a water base and tended to just rub off with any amount of force. Granted, the left side doesn't look so hot, but considering how bad the artwork has been on some of the other cabinets I've seen, I'm fine with it. No plans to redo it, I'll just leave it as is, but I will scan the artwork and probably finish the vectorizing the other Mr. Do! characters as time permits.
I only know a little bit of how this cabinet came to be in Chicago. The last owner placed the machine in a restaurant that eventually folded. He had bought the Mr. Do! machine on eBay four years ago in Oklahoma and somehow got it to Illinois. I hope to find out some more about the history now that I own one, however facetious that may be. But now that I have it, I made some other decisions about my collection.
I immediately sold my empty Midway cabinet that served for awhile as a converted Mr. Do!, and which I had plans to finish the sideart, print it, and mount it to this cabinet (hence the stripping and sanding). I also have made the decision to give up on my neverending Pac-Mame project and sell the Pac-man cabinet to anyone who is interested in surrounding Indianapolis area. As a substitute for some sort of multi game machine I may just end up Jamma-tizing this Mr. Do! and adding a 48-1 to it or something.
If you are, I'm probably going to ask $200 OBO on it. The artwork on the cabinet is original, and really nice and comes with the bezel, marquee, and control panel. I have other mame items in the cabinet that I plan on keeping unless a higher price is offered to offset those itmes. There is no longer a Pac-man harness in it and there never was a PCB, even when I bought it. Drop me a line if you are interested.
Here are some similar arcade posts
If you enjoyed this post, please consider to leave a comment or subscribe to the feed and get future articles delivered to your feed reader.