Late last month, right around the time of the Owen Rubin live chat at Coinopspace I had written a post about Jess Askey announcing that he was going to make a free level editor for Atari's Major Havoc that would allow the average user to drag and drop elements in a graphical interface to create their own stages that could then be taken and burned onto ROMs. In case you missed it, Jess quitely released his editor and one level has been made.
Jess Askeys arcade talents are amazing
He's so humble about it, but Jess has spent some stupid amounts of time, all in the name of passion for Major Havoc. This is what this hobby should still be about, I do not believe that collecting has to die out, but for those guys that love Major Havoc, they need to get involved. Show your passion for the game, just create a level, it is ridiculously easy even I could do it. Or just try the editor and suggest additional features for it. Jess was asking for feedback on the features of the editor.
Francis went through and made a level immediately. Granted, Francis knows he way around electronics, but this level editor is literally – move your cursor, grab the element, and then put it where you want it and save". You can get as complex as you want. Here are some screenshots from Jess Askey's Major Havoc level editor.

And the level Francis designed (omnipotent view). Thanks to both Jess and Francis for letting me re-use these captures;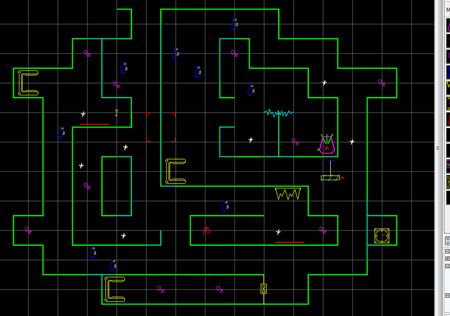 Download the Major Havoc level editor
Jess released the link for the Major Havoc editor last month in the Major Havoc group on Coinopspace. Owen has been involved in the group on the site, even pointing out during the live chat that in his original Major Havoc source code there may be commented out lines for the Star Castle level, and the gun on the ship in wave four. Jess didn't have that code set, so Owen was going to look back and see what he might have. All of that could be released with a new set of user designed levels, but not if there is no participation.
So, go out, download the editor and start playing. You'll need to upgrade your .NET framework to 3.5, I don't think it's a required Windows download. But that is pretty simple and your off and running. Thanks to Jess, I hope you continue to stay passionate and self motivated no matter who does or doesn't get involved actively. We look forward to the next stage of the level editor which should have some bug reporting tools and the ability to 'run' the maze and see everything animate.
Here are some similar arcade posts
If you enjoyed this post, please consider to leave a comment or subscribe to the feed and get future articles delivered to your feed reader.