Turning arcade artwork into an editable vector file is relaxing for me. In a time of stress, working on this artwork in Illustrator can be soothing. Such was the case over the last two weeks. After a half hour there, half hour here I have a new finished piece of artwork – the Professor Pac-man marquee artwork.
All that's left is the Professor Pac-man sideart
Beyond the Pengo artwork, I don't often work on every piece of artwork for one particular game. But I've already done the control panel overlays which were reproduced in a short run, as well as the control panel underlay artwork.
Certainly not a 'hard' piece, there was really only a couple of decisions I made when working on tracing the artwork.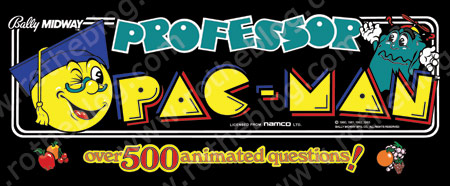 The first was whether to save a tiny bit of time and try to use the vector Namco logo from the Localarcade.com file that has all the manufacturer / distributor arcade logos. We all know that the artwork on Localarcade.com is by the general user, who may or may not know what they're doing and may not use a good source. But the fact that I couldn't download the file without the archive being corrupted / not complete made my decision for me. Retrace the Namco logo.
Second, there is a fair amount of text at the bottom – "Over 500 Animated Questions" – just enough to be boring to have to trace every letter, and in this case do an offset outline of each character in black.

I looked at the font and made a big assumption. I didn't do any comparison at Whatthefont.com, I figured that the font metrics had been exaggerated at some point and I would spend a bunch of time adjusting individual curves of letters to make them match. I am a power user when it comes to vector artwork, so I just decided to manually do them all. If you recognize the font as something obvious, leave a note. Maybe it's a pretty common font and I didn't even notice.
The strawberry I though initially had some registration problems, but then determined that the white around the dimples in the strawberry were supposed to be highlighted, and followed the original artwork.
The only other thing I noticed was the ghost's eyebrows appeared to be a dark grey, which I don't think is right. I'll have to get back with the person who scanned the item to see what color those eyebrows are supposed to be.

What's next with the Professor Pac-man marquees?
This was a fun project but this won't be reproduced, separations would be still be needed regardless. Beyond that, I don't know what's next.
Here are some similar arcade posts
If you enjoyed this post, please consider to leave a comment or subscribe to the feed and get future articles delivered to your feed reader.