Law of supply and demand baby, and those laws supersede any type of market climate. Where many games have seen a dip as much as 25-30% of their value, parts and games that are highly sought after and that had limited initial production runs always sell for a ton of money.
Quantum parts are hot
It's funny to think about a selling a Quantum control panel overlay selling for nearly $150, when you probably would struggle to sell a complete Frogger for a similar price. Here are the photos;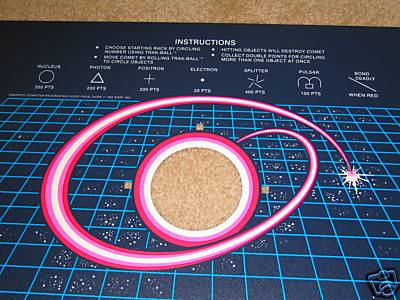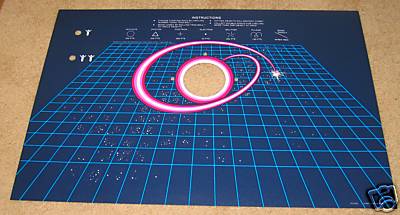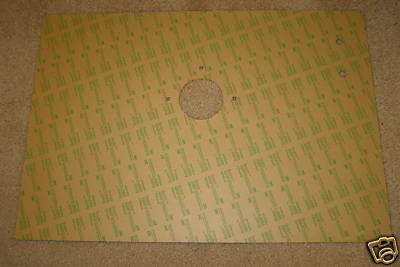 The seller doesn't specify whether this was one of the reproduction Quantum overlays from back in the day that Tom McClintock footed. That worked in his advantage, those overlays were such high quality that I am sure only the highest trained eye would be able to tell the difference when applied.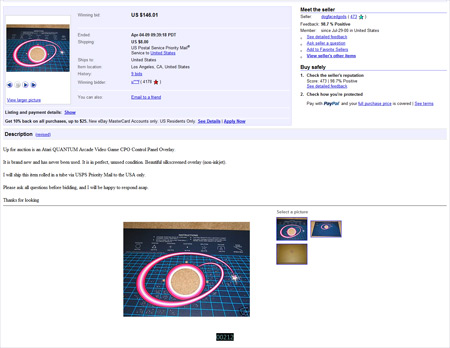 It's a shame to think that someone still hasn't reproduced sideart or kickplate artwork for Quantum. Not many out there, the demand would be low. But my guess is that you could sell, maybe, 25 sets. There will be guys to snatch it up to apply, some to hoard and resell when the timing is right, but the game will always have a following and this auction shows that even in the face of ambiguity, reproduction artwork on the right game can bring in some serious coin.
Here are some similar arcade posts
If you enjoyed this post, please consider to leave a comment or subscribe to the feed and get future articles delivered to your feed reader.