I don't usually say the typical "If only you were closer", but wow, a working Sinistar for $200 with a whole bunch of new parts. I would be all over that if I was anywhere near Arizona.
The cheapest working Sinistar I've ever seen
Here's the text from the ad and the screenshot / closer up of the Williams Sinistar.
Sinistar, Williams, 1982 – Original dedicated cabinet, new control panel overlay, powder coated coin doors, and new t-molding. Machine is complete and working but will need a new monitor. $200.00 FIRM (No Trades) Email to contact.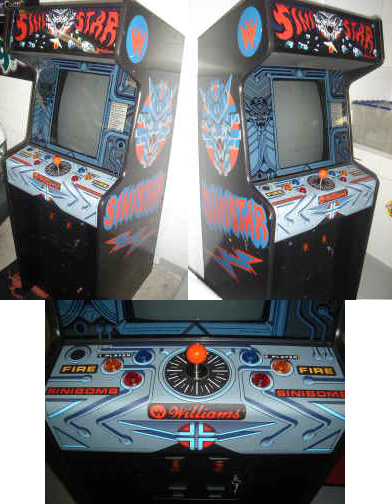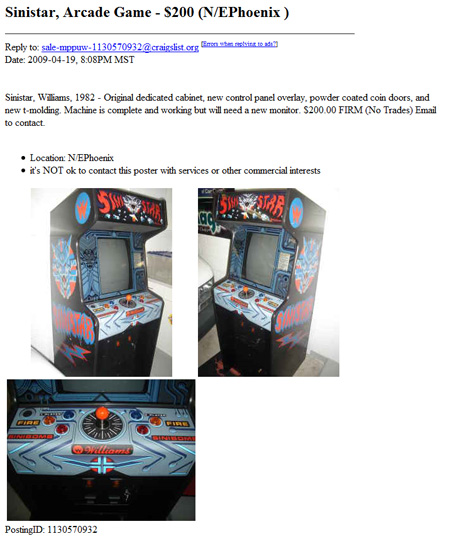 >
This guy is either a bonified collector, or he has a handful of machines if we were to make some assumptions from the text. And, unless he got this Sinistar originally for dirt cheap, he's losing some money. The parts alone (CPO, t-molding, etc) would have possibly cost him over $100.
Someone get on this and snatch it up. Hopefully locally to Indianapolis so I can buy it sometime down the road 🙂 I just missed out on a Sinistar a couple of hours away that filtered back out into the Chicago area.
Here are some similar arcade posts
If you enjoyed this post, please consider to leave a comment or subscribe to the feed and get future articles delivered to your feed reader.