You remember Sinistar, the sweet devil cat planet that taunts you as you play "Run Coward", "I Hunger" and "Beware I Live". Cut and comforting, I imagine the playing experience of Sinistar in the 80's was similar to an experience I had playing Resident Evil at 2:12 am in a dark basement jacked up on Mellow Yellow. But who knew he could also be so…funny? Stephen Notley figured when compared to a PO'd daisy anything is funny and gave Sinistar his own book of comic strips.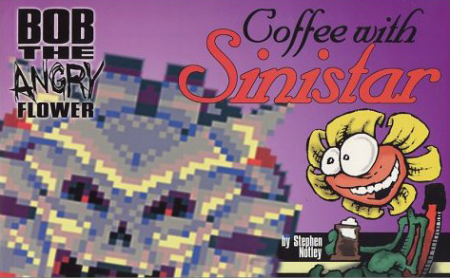 Coffee with Sinistar – An 'off color' book of comic strips?
That was what I was hoping. I had posted on Coinopspace about the Sinistar book to see if anyone had a copy, could tell me anything more. I was hoping to see some more pages beyond the couple of samples that are on Stephen Notley's Angry Flower website, I thought those were pretty funny.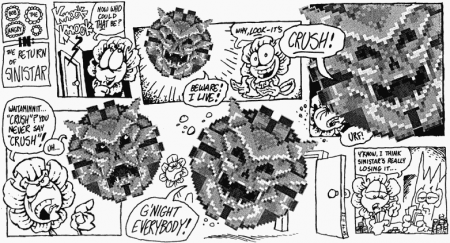 (Angry Flower artwork copyright Stephen Notley)
Well, after a series of emails with Stephen it turns out that what I thought might be the case was correct. There is a 'Return of Sinistar' strip as well as one other Angry Flower page that included Sinistar, but that was it. The content was used as the idea for the name of the book, when in fact the book is just Angry Flower comic strips by himself.
Ah well, one could hope. He could have made a funny comic strip for this mis-understood insecure arcade character 🙂 I really like the cutout, 8 bit look on the page. I think it's better than the stylistic illustrations of Sinistar. I am glad I didn't buy the book though, thinking otherwise.
What would best have suited Sinistar if he had a comic strip? A dilbert office type setting? Trouble at home? Sinistar looking for a relationship? My thinking is something out of the office, where he could interact with a wide variety of people that would make him go Berzerk….I mean crazy. Thoughts?
Here are some similar arcade posts
If you enjoyed this post, please consider to leave a comment or subscribe to the feed and get future articles delivered to your feed reader.