I was looking forward to today, a package was coming for me that contained not one but two of those character artwork Mr. Do! bezels that you can find on the rare white licensed version of the game. The price to ship is the same whether it was one or two, so I just bought both. However, I got a little bit of a surprise when I did some comparison.
Licensed Mr. Do! came as different conversion kits?
The Spies archive has a photo of a decal version of this white Mr. Do! sideart, an apparent piece to a conversion kit that was available. Today would seem to confirm that even further. When I took out the Mr. Do! bezel that I had bought on eBay two years ago, I found out that the two that I got bought were a different size. Not only in height, but in width as well. Check out this photo (My buddy got in on the action);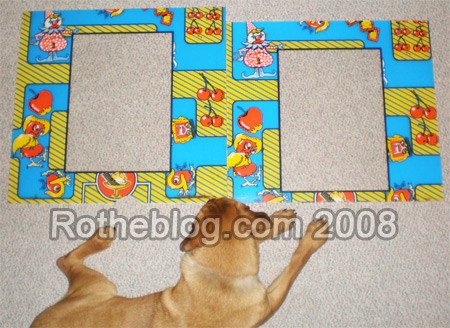 Here are the sizes of the bezels;
Larger Mr. Do! Bezel – 23.5 x 22.25
Smaller Mr. Do! Bezel – 23 x 20.5
I know there is another rectangular piece of plexi that is mounted typically to the back wall of these cabinet to make them complete and I can only assume both sizes have this piece. The cutoff on the artwork is similar, we don't see the artwork that is normally on that second piece completely making it onto the larger bezel.
We shall see. I asked Chris to take a look at the measurements of the current bezel in the white Mr. Do! cabinet. Regardless, I will be selling the plexi bezel that is in the cabinet now. It is either specifically a bezel for Looping, or it is just a generic bezel. Also last week I finally got a new lead on tracking down the former CEO of Universal and asking him some questions about the companies that licensed and built Mr. Do! cabinets.
If you own a Mr. Do! with one of these bezels and want to help me out, measure yours and submit the dimensions. If you can, send me a digital photo too. Let's see if there are yet a third or a fourth different size. I'll include the information in this post.
Here are some similar arcade posts
If you enjoyed this post, please consider to leave a comment or subscribe to the feed and get future articles delivered to your feed reader.