Darin Jacobs announced pre-order sales for Satan's Hollow control panel overlay reproductions today. Satan's Hollow artwork has a painted feel and has never been reprinted due largely to the daunting nature of the artwork. But it sounds like within two months we could see a small run of CPOs printed from Phoenixarcade.com and we have a sneak peak with a detail shot of the artwork.
Hotter than heck, Satan's Hollow CPOs
Darin made this announcement across the collecting space today. I like to keep stories here original, and don't just republish word for word content that's been shared on many sites. But I was able to get a preview image showing a detail of the upcoming Satan's Hollow reproductions. Check it out;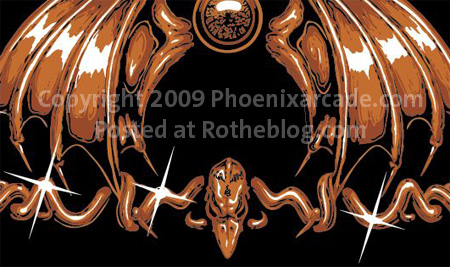 We all know Darin's work, he has contracted some very talented artists to only produce the highest quality artwork and I am sure this will be an authentic piece as well. Seeing as Darin outsources his work, the quantities will be a touch higher but I doubt there will be any lack of demand. I have seen guys looking for Satan's Hollow control panel overlays for three plus years since I've been collecting, including some mentions on Coinopspace.com.
Get your preorder in now at Phoenixarcade.com before the price bump, only $60 today. Otherwise you may be looking at a price range similar to the Food Fight overlays at $75. Sound off, who has been waiting for these and for how long?
Here are some similar arcade posts
If you enjoyed this post, please consider to leave a comment or subscribe to the feed and get future articles delivered to your feed reader.