That's a mouthful, and something you wouldn't sit down and think "Hey, there's a big money maker". But that is what makes this Buck Rogers project so cool! I've been in touch on and off with Shaun for over a year, usually over a period like that an artwork project gets dropped and is never finished. But he got back in touch, sent me photos of the overlay and said everything is done and ready to roll if anyone else needs one.
The control panel overlay looks like the gameplay
If you have never heard of this game before, check out the Buck Rogers and the Planet of Zoom entry on Klov. There appears to be two cockpits, the one on the top is maybe a prototype version? I see the cockpit on the bottom is shown in both the Buck Rogers Flyer and in photos on the Spies archive. But I digress.
The Buck Rogers upright is what we're concerned with, here is a shot showing the artwork for the full overlay;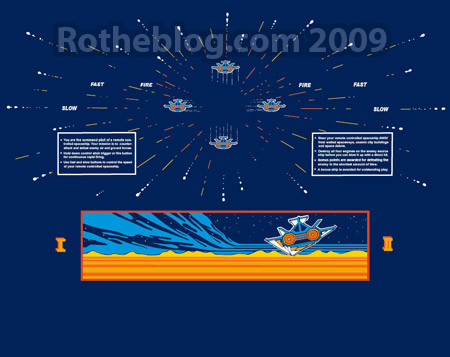 Shaun had a digital reproduction of this overlay printed. So no, they're not screened. But this game would not be able to support a run of screened CPOs, so this is the next best thing. Shaun works for ILM out in California, so while I might be over generalizing to say that he is a graphics expert, tracing some artwork in Illustrator was probably not a difficult task. I've got some detail level shots so you can see the original scan;

And the quality of the tracing (guide lines included);

As well as some shots of the CPO itself in hand.
If you need a reproduction control panel overlay for your game you can email Shaun directly or leave a comment below and I'll have Shaun get in touch with additional information.
If you have played a cockpit Buck Rogers, either version, leave us a comment and tell us what it is like, either the gameplay and how it stacks up against other cockpits, or how the artwork looks in person. I'd be curious to hear, having never seen one myself.
Here are some similar arcade posts
If you enjoyed this post, please consider to leave a comment or subscribe to the feed and get future articles delivered to your feed reader.