I was doing some searching on Flickr about a week and a half ago for some photos of arcade machine or two and stumbled across this fun illustration of Pac-man mowing through a ghost. You haven't seen anything quite like this before.
If our 8 bit characters were real
They might look like this at their demise. The illustration style is definitely unique, and even though they all fit as a series, I definitely like the Pac-man the most because it isn't really bloody where the other images have some blood and guts. Some of the other images include Dig Dug, Mario, and Kid Icarus.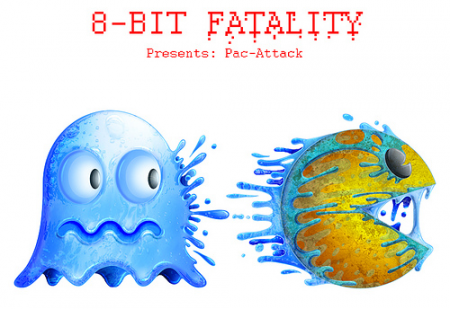 Visit the whole 8-Bit Fatalities series on Flickr to see the rest. You can also visit the artist's website (Steven Lefcourt) at Tasty Paints.com. He has a modern dreamlike style of illustration that he seems to use acrosss mediums but mostly used on t-shirts.
I think I would buy this Pac-man image on a shirt if it didn't say '8 Bit Fatality' on it. I love detailed textured illustration instead highly simplistic artwork and this is right up my alley. We could do a sublimation print to get the true colors and detail since screen printing couldn't replicate this. I wonder if Steven would allow me to make myself a shirt or not if I could buy a copy of the digital artwork….
Here are some similar arcade posts
If you enjoyed this post, please consider to leave a comment or subscribe to the feed and get future articles delivered to your feed reader.