Soon after I got my $50 Mad Planets deal, I wasn't sure that I was going to finish turning the underlay artwork into vectors before I picked the game up and brought it back to Indianapolis. But Rory B. stepped up, got his NOS Mad Planets Underlay scanned and sent me a copy of that scan to finish tracing the artwork when possible.
A couple more hours in Illustrator
It's been interesting to see the small subtle difference in artwork in a scan from an underlay on a Mad Planets vs. an NOS piece. If I were to go out on a limb, I would say that if Gottlieb printed some replacement pieces for sale, maybe there was some time between actually manufacturing and reprints and that could account for small variances. Some of the differences are just where the artwork has shifted or bled together, but in general I was able to line up the artwork I had done with this new scan.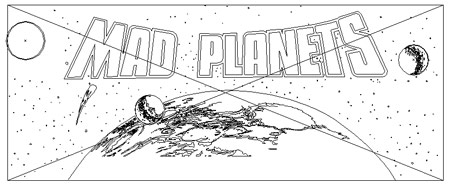 Those stinking planets. I've spent a few more hours on this, and mostly it's on those planets, they've got so much detail so this progress shot doesn't look vastly different than before.
Originally I thought I was about 65%-70% done with this artwork, but the NOS piece had an extra portion at the bottom that I assume either folds under or is cutoff, so in actuality I am now only at about that threshold, where I was maybe 50% before. I am missing quite a bit of artwork on the large planet at the bottom.
Here are some similar arcade posts
If you enjoyed this post, please consider to leave a comment or subscribe to the feed and get future articles delivered to your feed reader.