Somebody had better snatch this up quick quick. A slightly buggy, but complete Gyruss for $90 on Craigslist in Upper Arlington, a suburb of Columbus right by OSU.
Must resist Gyruss for my gameroom
Columbus is a short 3 hours for me…and the problem with the game is probably something simple. This is really hard for me to resist buying, I actually stopped to think if I could make it work….but I just don't have space. Here is the text from the Craigslist ad, and not only is it $90, but he says OBO!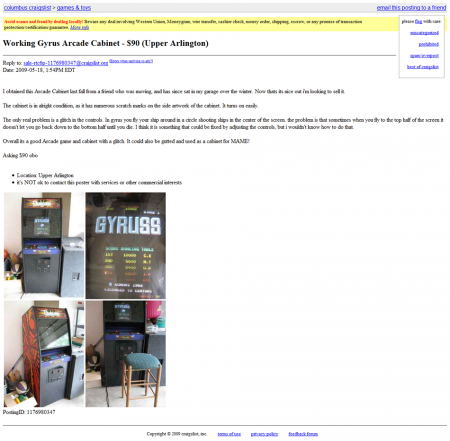 I obtained this Arcade Cabinet last fall from a friend who was moving, and has since sat in my garage over the winter. Now that its nice out I'm looking to sell it.

The cabinet is in alright condition, as it has numerous scratch marks on the side artwork of the cabinet. It turns on easily.

The only real problem is a glitch in the controls. In gyrus you fly your ship around in a circle shooting ships in the center of the screen. the problem is that sometimes when you fly to the top half of the screen it doesn't let you go back down to the bottom half until you die. I think it is something that could be fixed by adjusting the controls, but i wouldn't know how to do that.

Overall its a good Arcade game and cabinet with a glitch. It could also be gutted and used as a cabinet for MAME!

Asking $90 obo
It's 3:30. If this isn't gone already, it will be soon. I set this post to show up later tonight to give a friend a head start. A Gyruss is easily worth $250-$300 in this down market, and it's a super fun game to boot. Pick it up and get Matt Osborn's Gyruss high score save kit.
Update – 4:05
Looks like the guy is confusing Craigslist with eBay, which sadly I've heard this story before. Guy gets larger offer, guy retracts price.
Hi there , Thank you for your interest, i have had some other offers that have exceeded the $90 amount posted, the highest at the moment is $125.

I am very sorry to do this as i don't know what i can get for this

So if you are still interested send me back an offer and by tomorrow afternoon I will contact you as to whether or not you gave the highest offer.
Very sorry? Bull. If you are going to be a weasel, at least own up to it. Do your research and set a price and don't take prices secretively. However, even at $125 that is a solid deal. But you know some people will play the coercive bidding war game, such is the nature of collecting and the wide open system that is Craigslist. It's just too bad for the guy who actually loves Gyruss because the seller will probably end up selling it to someone who is looking to flip it.
Here are some similar arcade posts
If you enjoyed this post, please consider to leave a comment or subscribe to the feed and get future articles delivered to your feed reader.