It's been a long time in process, much like most projects like the Agent X artwork and the D2K (Donkey Kong 2) artwork, but very soon we should have Pengo control panel overlays for purchase and here is a little progress update as well as a little bit about the beginning of the story.
Pengo Overlays – Coming up on a year
Some time back I finished preparing the Pengo CPO artwork for offset printing, vectorizing my original cpanel and then performing the color separations. I asked Rich at This Old Game if he was interested to print these, because I thought we might be able to sell a decent quantity over time. He said yes and we were on our way.
Now, knowing how long some of these projects have taken in the past I was only going to start talking about the overlays once they were ready for sale. There is a lot of work involved with taking orders, giving people updates, people selling machines, reputations and all of that stuff that I thought the best strategy would just to sit tight until they were ready for sale. Rich ended up adding the Pengo CPOs to his 'Coming Soon' items when he rebooted his website a few months back, so slowly but surely people have found out that these are coming.
Where we started
I contacted Rich around the third week of June 2008 and inquired about his level of interest. After he said yes, I got on the horn on the 23rd and asked Dan P. out in California, who bought an NOS Pengo numeral style CPO from Brian in Milwaukee if he would lend to Rich for an indefinite amount of time for color matching purposes. I had taken down my best estimate of color matches for this Pengo overlay with a Pantone Process book and sent them along to Rich.
The overlay arrived in Oregon on the 27th and Rich confirmed that the colors I had chosen were spot on, maybe one or two needing small adjustments.
The Pengo Eskimos Overlay version is the most common, it came with the arcade machines from the factory so that was the piece we decided to reproduce. The Eskimo heads had an even red halftone pattern that I manually recreated. On the 30th Rich asked to confirm this and I sent along a full scan of the Pengo overlay artwork including the detail on the Eskimo faces.
A few weeks went by, and then I got the first screened color samples in the mail on August 6th. Even though Rich had an overlay, we wanted to make sure colors were consistent across both versions. All of the colors were the same, but if memory served me I told Rich the purple was a touch bright and he made some adjustments on his end accordingly.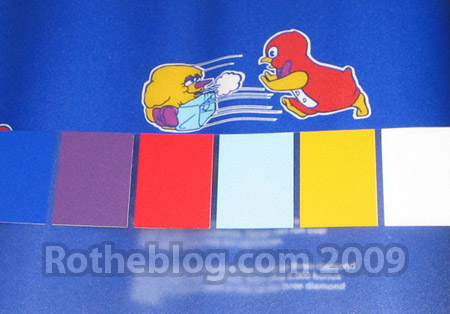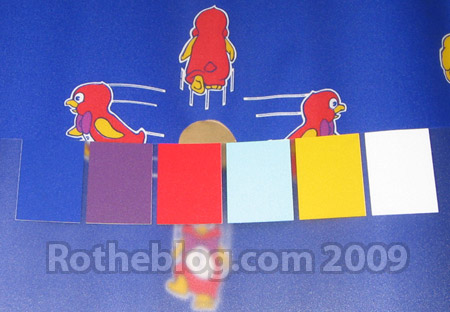 On August 26th Rich wanted to confirm where all the buttons and joysticks would sit on the overlay. I did a drawing of all of the measurements for the overlay hole placement as well as the joystick and sent that along to him.
A few weeks later we had our first test film, on September 7th. This was pretty exciting to see. The artwork I had worked on painstakingly starting to come to life. Rich sent me some digital photos to make sure the screens looked right. I noticed a couple of missing pieces, some eyebrows, a missing toe, some ice block lines (very tiny detail) – and I noted that information to him.
On September 15th he did a second film, and that one was spot on. Here is a photo of one of those films for the 'blue' color sep.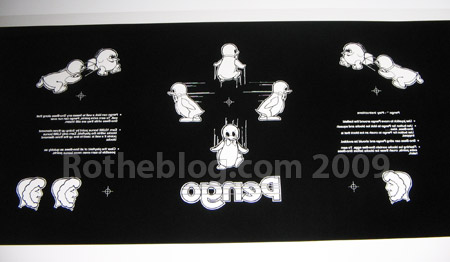 Moving forward with the Pengo overlays
As we get closer for these overlays to be ready for sale, hopefully in about a month plus I will try to show some more of the progress photos of the overlays and talk a little bit about each step in the long process. Right now all that remaining is punching the button holes and these should be ready to roll.
If you are interested in getting an overlay, leave a comment. I have a Word file of people that had expressed interest in the past, but if you think you are going to buy one let us know. I might have missed you. There has been some talk about the sideart in the future, but if the sales tank on the CPOs, then there probably isn't a reason to do the sideart. So, make sure to buy an overlay if you would like to see the sideart done.
Oh, and huge thanks to Dan P. for being extremely patient while we use his Pengo artwork to make these overlays the best possible.
Here are some similar arcade posts
If you enjoyed this post, please consider to leave a comment or subscribe to the feed and get future articles delivered to your feed reader.